Liverpool advance to Champions League group stages 
Five-time European Cup and Champions League winners Liverpool have advanced to the group stages of this season's tournament after defeating Hoffenheim in their second leg playoff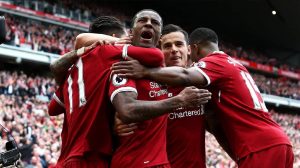 match, 4-2. The Reds successfully navigated the playoff round against the tricky German team and the club will now reap the rewards of their win with six group game matches.
Liverpool's 6-3 win on aggregate shows the strength the team have in attack, and any match at Anfield will showcase the famous Merseyside nights the club is famous for hosting. The playoff round showed supporters the great arsenal of attacking threats Liverpool have in their side. Roberto Firmino, Sadio Mane and Mohamed Salah all played brilliantly against Hoffenheim over two legs. If Liverpool do not sell Philippe Coutinho to Barcelona this summer transfer window, Liverpool will have an embarrassment of riches in terms of their attack.
Liverpool's opponents for the group stages are Spain's Sevilla, Russia's Spartak Moscow and Slovenia's Maribor. On paper, the Reds should finish first or second in their group and qualify for the knockout stages; but things are always easier on paper.
Sevilla offer Liverpool a small chance of redemption after the Spanish team defeated Jurgen Klopp's side in the 2015-16 Europa League Final. However, both teams are very much different with new personnel. Sevilla should offer the most difficult match in the group games, and the Spaniards will be the stiffest competition for the top spot in the group.
As of now, the match dates and opponents aren't set in stone, but Liverpool will play either September 12th or 13th in their first group match. Match two will be held on September 26th or 27th, followed by match three on October 17th or 18th. The final three matches will take place on October 31st or November 1st, November 21st or November 22nd, and December 5th or 6th. Of course, Liverpool will play the other three teams in the group home and away.
With the Champions League back in Liverpool, those historic Anfield nights will be rekindled as the club attempt to win their sixth European Cup. If you can't miss seeing a Liverpool match in this season's Champions League, WOWTickets.Football has your ticket to being live at Anfield.