The Manchester Derby will dictate who wins the Premier League in 2017-18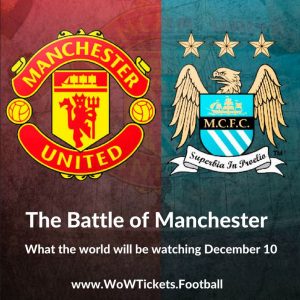 Manchester City are running away with the English Premier League. Pep Guardiola's side are currently eight points clear of nearest rival Manchester United, and it looks like the Red Devils could be the only team to rein in the Blues this season. On December 10th, the two arch rivals will battle once more in the Manchester Derby, and the Premier League race could be over by the end of the 90 minutes.
Manchester City have been nearly unstoppable. The only team to take points off of Guardiola's men have been Everton. The Toffees took a point off of Manchester City in week 2 at the Etihad. Since then, Manchester City have been a juggernaut rolling through the likes of Liverpool, Chelsea and Arsenal.
Manchester United, on the other hand, were considered by many as the top team coming into the Premier League season. However, two losses in three straight matches have many wondering if Jose Mourinho is ready to leave the club. There are rumours linking him with Paris Saint-Germain, but he continues to say he is dedicated to the Old Trafford job.
Manchester United have a brilliant defensive record, just five goals conceded,. However, the team are in a mini-slump in the Premier League. Red Devils star striker Romelu Lukaku hasn't scored in five Premier League games, and went the entire month of October without tallying a single goal in the league. It isn't a good sign for a team that regularly gets labelled as a defensive team.
If Manchester City defeat their city rivals on December 10th, it seems unlikely that Guardiola's men will be kept from winning the league title. Perhaps the only saving grace for those sides chasing Manchester City will be the fixture congestion the team face during the holidays and in the spring. Although fans will love the number of cup and league games Manchester City must play, Guardiola and company won't. It could be the team's downfall, but they are building up a decent lead.
The Manchester Derby may be the last chance a Premier League side has to stop Manchester City. It is going to be a massive fixture when the two clash at Old Trafford on December 10th.
Want to see a Manchester Derby in person? www.WoWTickets.Football can get your there. Visit our website and get your tickets today.