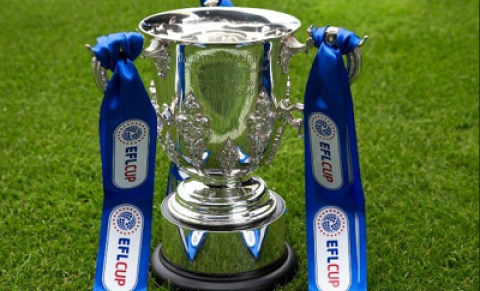 Wembley beckons for the four semi-finalists but with home and away matches to negotiate, nothing is taken for granted. The EFL Cup (aka Football League Cup or Carabo Cup for sponsoship purposes) isn't a high priority for some clubs but try telling that to the supporters. It's edge of the seat stuff and there's no way you want to lose either of these EFL Cup London matches. Tickets for the EFL Cup games go on sale a month before they take place with the EFL Cup final popular with supporters. It's a match for the fans: more tickets go to supporters for the final than the FA Cup. It's football's way of saying thank you to those who want to attend in person. No matter what the competition, a walk up Wembley Way is one of football's greatest experiences. There's a real sense of history as you approach the stadium and with state of the art facilities, it's one of football's greatest stadiums. So, don't miss the fun and buy your tickets to the League Cup on time.
EFL CUP GIVES MOURINHO EDGE OVER BITTER RIVAL GUARDIOLA
The EFL Cup regained some of its' sheen in the 2016/17 competition. For so long regarded as the FA Cup's poorer cousin, Manchester United's 3 – 2 win over Southampton in the final offered a cracking finale to an exciting competition.
For Jose Mourinho, it gave him silverware in his first season as United boss and one-up over bitter rival Pep Guardiola, the boss of Manchester City who is set to miss out on trophies entirely in his maiden Premier League season. The EFL Cup matters!
The latter stages of the competition saw sell-out crowds for each leg of the semi-finals and the final itself. Manchester United beat Hull City over two legs 3 – 2 on aggregate while Southampton won 2 – 0 against Liverpool.
Anfield, Old Trafford, the KCOM Stadium and St. Mary's; great English grounds, new and venerable. All tickets gone either supporters missing out. In those circumstances, the thriving secondary market is your best hope for tickets. WowTickets is your number one choice for safe and secure purchases, giving you piece of mind with our trusted money-back guarantee. We have seats at all the major events meaning you never have to miss out.
Southampton gave a tactical masterclass at Liverpool. Defending a 1 – 0 lead from the first leg, they frustrated the Reds and didn't give them many opportunities to score. With a couple of minutes to go, the Saints grabbed the decisive second goal with Shane Long finding the net after a lightning quick counter-attack.
The final was one step too far for Claude Puel's men who defied the odds to reach that far. They played Premier League opposition in every round, beating Crystal Palace, Sunderland and Arsenal at the Emirates. Three of the country's top six teams is an exacting route to the final and proved to be one step too far.
There was a beneficial effect for the team though. They rose to mid-table in the Premier League after a slow start.
But the glory goes to the winners. Manchester United also played Premier League opposition in every round, save for the Third when they won 3 – 1 at Northampton. The 'sold out' signs hung from the Old Trafford doors when they drew Manchester City in the next round.
West Ham United were put yo sword next before Hull City gave Mourinho's men an almighty fright in the semi-final. United cruised to a 2 – 0 first leg lead but the KCOM was rocking and Hull led 1 – 0 until just past an hour played, when Paul Pogba repaid some of his fee. Niasse made it 2 – 1 and set up a dramatic final ten minutes. The elation on the United faces told its own story as they were set for Wembley.
It's worth remembering that when you go into the secondary market for tickets, the reduced admission prices that some clubs operate are not always reflected. At WowTickets, all the tickets on offer are competitively priced and guaranteed by ourselves or you get a full refund.
The 2017/18 EFL Cup has a lot to live up to but with United winning the 2017 final – and a pulsating affair it was, played in front of a fervent crowd -other big clubs are sure to take notice.