Tottenham Hotspur Tickets
Dare Spurs fans dream? Is this the year they break the long hoodoo on being crowned champions? And with the home games at Spurs new stadium, what better place to achieve that feat. With the new stadium completed, it's your chance to grab your Tottenham tickets, live the dream and soak up the red-hot Spurs atmosphere. The hairs on your arms will stand on end as When the Spurs Go Marching In barrels around the national stadium; the euphoria and optimism will sweep you along as you take your place with like-minded supporters. History beckons and Tottenham's reputation for artistry and great football creates a sense of achievement and expectation. And being football fan in London, there's no better place in the world to see, feel and touch history. With so many tourist attractions, there's never a dull moment in the world's greatest capital city! And when the day's over, the city springs to life once more with its vibrant club scene and theatreland. This is one trip you'll never want to stop. We offer a variety of Spurs tickets from standard to VIP/hospitality tickets.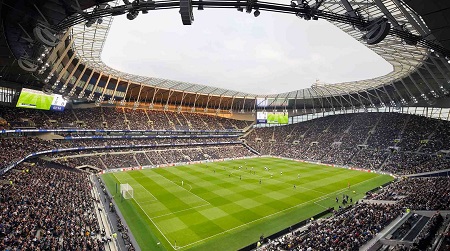 Tottenham Ticket Prices
Tottenham operates 3 main price categories: A, B and C.
Category A covers matches against one of the 5 big teams: Arsenal, Chelsea, Liverpool, Man City, Man united.
Category B covers matches against 9 teams: local London rivalries such as Crystal Palace and West Ham United and other 7 medium size teams.
Category C covers all the rest of the small teams.
THFC ticket prices on the secondary market are different from the original "face value" stated on the ticket and they fluctuate according to supply and demand. In general, since the new stadium's capacity has increased to 62,062 seats - prices are relatively low than what they used to be. You can get a ticket from as low as 90/120/250 GBP each (for categories C/B/A respectively). Prices may increase when Tottenham is in good standing in the competition table or if there's a close Rivalry with the opposing team.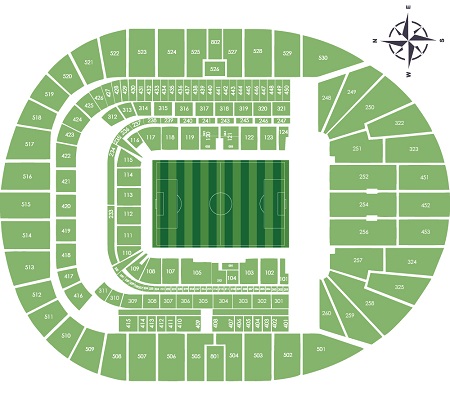 Selecting the Right Seats - Tottenham Hotspur New Stadium Plan
Selecting the right section is depending on your budget and preference. Cheapest locations on the stadium are the short side upper tiers (behind the goal, upper tiers).
Next seating location would be Long side upper tiers (along the side of the pitch, upper tiers). If you have the budget and a strong preference to see the match from up-close - the Short and Long side lower tiers will be a good fit for you.
Tottenham VIP and Hospitality Tickets
If you want to enjoy the comfort and style of the VIP packages you can select from the VIP packages below:
The Travel Club - Middle Tier
Long Side middle tier level 2/3 Executive seats (blocks 236-239, 312-315), catering option pre-match, access to cash bar, refreshments in half time, Spurs Legends appearance and match programme.
The Travel Club - Halfway Line
Long Side, lower tier, level 1 half way line Executive seats (blocks 002-003), catering option pre-match, access to cash bar, refreshments in half time, Spurs Legends appearance and match programme.
How to Buy Tottenham Hotspur Match Tickets Online?
Follow these steps to complete your purchase of Tottenham tickets:
Select your Tottenham fc match from our events table above or our match menu. You can buy for home games or Tottenham Hotspur away tickets.
On the Tottenham hotspurs fc events page, locate the seating section you want and click 'Buy ticket'
On the checkout page please login with your user information or select checkout as a guest and fill in your personal information then press 'Next'.
In the review your order page you will be able to review Tottenham hotspurs tickets that you have ordered and the total price you will be paying in the next stage if you have been given a coupon or discount code, enter this in the box and click "apply". The final Tottenham ticket prices will be calculated and then click "Proceed to payment". There are no hidden fees or costs and the total price you see is what you will pay for Tottenham football tickets.
After clicking "Proceed to payment" you will be redirected to our highly secure payment page where you should enter your payment details and process the payment.
After payment is successfully processed you will be redirected back to our site and you will receive a confirmation message. An email with your Tottenham fc ticket order details will be sent to the email address you have provided during your registration.
How Will My Spurs Tickets Will Be Delivered?
Currently, most of the tickets are electronic tickets that will be emailed to you. Some tickets are in card format that can be delivered with a courier.
Tottenham Quick Facts
Nickname: Spurs / The Lilywhites
Ground: Tottnham Hotspur Stadium, London
Formed: 1882
Manager: Mauricio Pochettino
Captain: Hugo Lloris
Tottenham Hotspur, one the world's most famous football clubs, was formed in 1882 and moved to their new home, Wembley Stadium.
The iconic club emblem of a cockerel atop of a football is seen all around the stadium, a reminder of the club's glorious heritage. Spurs, as they are normally known, remain the only non-league club to win the FA Cup, beating Sheffield United in the final in 1901. In the 1960/61 season, they became the first English club to win the league and FA Cup double. It was their 'Golden Age'; the FA Cup followed in 1962 and Atletico Madrid were hammered 5 – 1 in the 1963 European Cup Winners Cup final. Spurs were the first British club to win a European trophy.
Those are just some of the highlights for a club which has won 2 League titles, 8 FA Cups, 4 League Cups, 7 FA Community Shield, as well as the UEFA Cup twice to go with the European Cup Winners Cup.
Wembley saw some of Tottenham's greatest achievements; the FA Cup final wins, the double of 1960 – 61; it's a long list to make the temporary home feel like home. Add to that the European trophies which adorn the trophy cabinet and you understand that this is one of England's great clubs.
But Tottenham can't just win, they must win with style. It's the heart and soul of the club. To win the right way, the Tottenham way; that's what matters and why the crowds will always flock to wherever they are playing.
Some of the greatest players in English football have worn the cockerel proudly on their chest. Jimmy Greaves, Martin Peters, Pat Jennings, Glenn Hoddle, Gary Lineker, Paul Gascoigne, Teddy Sheringham, Ossie Ardiles and Gareth Bale through to the current crop featuring Hugo Lloris, Christian Eriksen and of course, Harry Kane.
Members of the Premier League when it was first founded in 1992/93, Spurs enjoyed their best season in 2016/17. Runners-up and Mauricio Pochettino is adding to the squad. Davinson Sanchez, a £42m record-signing from Ajax will grace the Wembley turf in the famous white and blue. Up front, Harry Kane and Dele Alli were sparkling performers as they almost toppled Chelsea. One better in 2017/18? Don't bet against Wembley being the home of the champions!
Members of the Premier League when it was first founded in 1992/93, Spurs enjoyed their best season in 2015/16 when they finished third, pushing champions Leicester City all the way until the last week of the season. By the club's standards, second place is a fantastic achievement. Spurs proved their mettle in the Premier League, not collapsing as the pressure grew. Harry Kane and Dele Alli were sparkling performers as they almost toppled Chelsea. One better in 2017/18? Don't bet against Wembley being the home of the champions!
Greatest Moment
Whilst many supporters will argue that beating Arsenal 3 – 1 in the FA Cup semi-final at Wembley in 1991 was the greatest moment, it was the club's first league and FA Cup double in 1960/61 and the first by any English side in the 20th Century.
Bill Nicholson, Tottenham's most revered manager, guided the side to the league title, winning 31 of their 42 games and scoring 115 goals. They scored another 21 goals in the FA Cup, beating Leicester City 2 – 0 in the final and were English football's leading side, famed for their neat passing moves, known as 'Push and Run'.
Official Social Pages for Tottenham Hotspur Football Club
Follow Tottenham Hotspur FC on:
Facebook - http://www.facebook.com/TottenhamHotspur
Twitter - http://twitter.com/SpursOfficial
Instagram - http://instagram.com/spursofficial
SoundCloud - https://soundcloud.com/spursofficial
YouTube - http://www.youtube.com/user/spursofficial
Pinterest - https://uk.pinterest.com/spursofficial/
Weibo - http://weibo.com/tottenhamhotspur
Snapchat - @SpursOfficial #COYS #THFC
Football News
Feb 20, 2020 Thu 9:44

Tottenham Hotspur Stadium is a stunning creation, arguably the best new stadium in the world. Tottenham Hotspur Stadium, London, UK...

Jul 2, 2017 Sun 10:52

English Premier League Season 2017/18...

May 14, 2017 Sun 21:01

Mar 27, 2017 Mon 10:43

Mar 13, 2017 Mon 8:30