FA Cup Final: Manchester United versus Chelsea | FA Cup
Manchester United and Chelsea will meet in the FA Cup final on Saturday May 19. The two legendary clubs have only met twice previously in an FA Cup final. The teams have split the games with Manchester United winning in 1993-94 and Chelsea gaining a measure of revenge in 2006-07.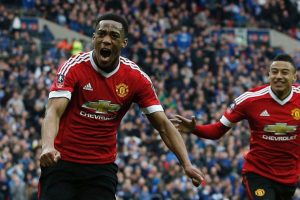 A win at Wembley for Manchester United will see the Red Devils equal Arsenal for the most FA Cup wins with 13. Chelsea can move to eight FA Cup final wins with a victory. If the Blues win, the team will join Tottenham in third place in FA Cup triumphs.
Last season, Chelsea and Manchester United met in the FA Cup quarterfinals. The match ended in a Chelsea win, 1-0. The Blues' made it all the way to the FA Cup final, but lost to Arsenal at Wembley. Now more than 12 months since their meeting in the FA Cup, the two clubs are in very different places.
Chelsea made several personnel moves in the offseason that haven't improved the side as hoped. The addition of Alvaro Morata and subtraction of Diego Costa hasn't worked. Although Morata has tallied 11 goals, the Spaniard has gone missing for large parts of the season. The Blues' defence hasn't been quite as good as it was a season ago either. The team has conceded 35 goals while defenders David Luiz have been injured and midfielders like Cesc Fabregas have declined rapidly.
Manchester United are a much different side as well. The Red Devils splashed money in the last two transfer windows signing Romelu Lukaku and Alexis Sanchez, respectively. Lukaku has lived up to the hype scoring 16 goals. For much of the season, Lukaku has been the only bright spot in Manchester United's attack as the team has stuttered in front of goal from time to time.
Sanchez was a transfer splurge the Red Devils didn't need. His addition has not only cost the team a lot of money to pay his salary, but it has upset the team's dynamic. Sanchez's inclusion has pushed Marcus Rashford, Anthony Martial and Jesse Lingard to the bench, and at least two of those players look likely to leave in the summer. Paul Pogba hasn't made things better with his attitude and relationship with manager Jose Mourinho.
The FA Cup will be the final opportunity for either club to win silverware this term. A win could change the narrative of either club's season.