Arsene Wenger stepping down after nearly 22 years as Arsenal manager | arsene wenger
Arsene Wenger shocked the football world on April 20, 2018 with the announcement that he would step down as manager at the season's end. The revelation came as Arsenal prepare for their Europa League semifinal first leg against Atletico Madrid, as Wenger attempts to do the one thing he has been unable to do as Gunners' manager – win a European trophy.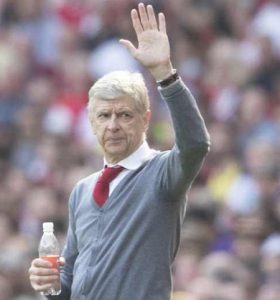 Although Wenger will be remembered as one of the most influential and best managers of his time, the last 10 years have seen fickle fans hit out against the Arsenal legend all too often.
Wenger's third and final Premier League trophy came in 2003-04 along with an FA Cup. A barren spell followed and supporters were left continually enraged as Arsenal perpetually failed to win another trophy. Despite securing the FA Cup in 2014, 2015 and 2017, most Arsenal supporters remained opposed to Wenger.
His 22-year spell with the club marked the longest a manager had been in charge of a Premier League side. Now, Arsenal go into unfamiliar territory and fans, who have been spoilt during Wenger's reign, may get to experience just what life was like before the Frenchman arrived. The biggest difference in 1996 and now is Arsenal are one of the premier clubs in the world. Top managers will see Arsenal as a great opportunity, and attracting a top-notch coach will be far easier today.
In Wenger's time as Arsenal boss, he secured as many Premier League trophies as the club won between 1961 and 1991. Although he hasn't been able to win a fourth, supporters should be wary of the man who takes Wenger's position. Manchester United and Liverpool have both replaced iconic managers in the past eight years. Neither club have been able to win the Premier League  and/or Champions League since those managers exited. In the case of Liverpool, their Premier League/first division title drought goes back to 1991 when legendary coach Kenny Dalglish left the helm.
Wenger is not retiring from managing as the Frenchman still has the hunger and drive to coach. There are expectations that Wenger will take over the French national team following this summer's World Cup. French supporters have wanted Wenger to assume to role for years. A poor performance from Didier Deschamps' team could once again influence fans to call for Wenger as manager.
While working at the international level would suit Wenger, there is a chance he could move into a sporting director role. Over the years, Wenger has shown a keen eye for finding good, young talent and helping players develop. It could be a role that Wenger fits into well.
Wenger's announcement took everyone by surprise. After nearly 22 years, there was a feeling he would never leave Arsenal willingly. It appears that day will finally come, and he has the chance to go out on a high, if Arsenal can win the Europa League in May.