Chelsea's Incredible Transformation About To Be Tested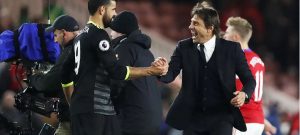 Chelsea hit the top of the Premier League with their 1 – 0 win at Middlesbrough yesterday. Although it is only a point lead, the transformation in their fortunes has been remarkable.
Three-down at half-time to Arsenal, Antonio Conte switched his side to a 3 – 4 – 2 – 1 formation and they haven't looked back. In the six Premier League matches since, they have scored seventeen goals but crucially, haven't conceded.
Champions are teams whose defense is solid. Chelsea's was anything but. Swansea, Liverpool and Arsenal put a total of seven past Conte's men; the early season promise of the Italian's reign evaporated.
The back four was rattled, inconsistent and error-prone. Now, Azpilicueta, Luiz and Cahill are confident, full of self-belief and a cohesive unit. Individually, the latter pair are a mistake waiting to happen. Not now.
An upsurge in form had to be expected. The run of fixtures Chelsea had were all winnable games, all games they would believe they would win. But the performances? They came out of nowhere. Or the Cobham training ground, to be precise.
Conte has worked the players hard, vigorously imposing his energy and searing his tactical thinking into their psyche.
It's been a liberating time for players who woefully under-performed last season. Eden Hazard is back to the form which won the Belgian personal accolades two seasons ago. He's been complemented from some surprising sources; few expected Victor Moses to be the revelation he has, finally living up to the promise he had fleetingly shown on loan.
Others, such as Pedro, have come from the shadows to the starting line-up, making powerful contributions. The Spaniard's opening goal against Manchester United was just what Conte's side needed; it cemented the confidence of winning their previous two games.
And has rejuvenated Diego Costa. The Spanish international is the first Premier League striker to reach double figures this season.
The question Chelsea have to answer is whether they can keep this run going. Next weekend, they face Tottenham Hotspur, unbeaten in the Premier League but hapless in Europe. Spurs face Monaco this week knowing their Champions League fate hangs in the balance. If they lose, they are out if Bayer Leverkusen take points off CSKA.
The Blues have no such worries. Their woeful title defense last season left them outside the European places. They have a free week to think about the game, to prepare.
Out of the EFL Cup, the same situation arises the week after. And a trip to Manchester City at the end of it. Their two biggest games of the season and Conte has the maximum preparation time he could hope for.
I'm sure that he would prefer to be pitting his wits in the Champions League but two victories may give him that option next season.