What's Up Poch?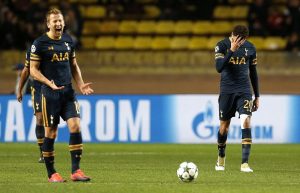 In the twelfth game of the 2003/04 season, an undefeated Arsenal beat Tottenham Hotspur 2 – 1 at the Emirates stadium. The Gunners were a point clear at the top of the table and on their way to the semi-finals of both domestic cup competitions whilst still with a chance of progress in the Champions League.
Fast forward to 2016/17. Tottenham unbeaten in twelve, are fifth despite being the only English club not to lose a league game. Cups are a different matter. They exited the EFL Cup at Anfield and on Tuesday night, exited the Champions League. If they lose at home to CSKA Moscow, they won't even have the solace of even the Europa League to call upon.
Spurs lost their two other home games in the Champions League and lost in Monaco with a spineless performance which infuriated their supporters. This was a club whose manager had claimed in the summer that his squad was good enough to win the tournament. Now that same squad is understrength and needs to be improved.
It's all so typically Spurs
They are the Premier League's habitual failures. Given substantial leads over Arsenal at times during the past decade, they have fallen apart and lost out on a top four finish. Last season was the most galling; in the title hunt, they were second in a two-horse race they contrived to finish third. Arsenal were runners-up.
No wonder some of their supporters think Spurs are cursed
But the biggest concern is this season's Premier League. Despite being unbeaten, there is a genuine sense that Tottenham are underperforming. Some will argue getting a point when you play badly is the sign of a good side. The problem is Spurs have yet to play well this season other than the 2 – 0 victory over Manchester City at White Hart Lane.
Stamford Bridge will be a big psychological test. Last season's title hopes disappeared in an ill-tempered match; Chelsea came back to draw from being 2 – 0 down and being over-run. Add in the damage caused by the nature of the defeat on Tuesday and Spurs are in poor shape for a big test.
With several big players to come back into the starting line-up, there may be a tendency for supporters to dismiss losing to Monaco. On a bad run, it smacked of more of the same. Defeat, coupled with the expected wins elsewhere, leave them adrift by more than one result of fourth.
Habitual failures leave a manager on the back foot when talking about their squad. Arsene Wenger knows this, constantly reassuring supporters about the mental strength of his players. At times it seems like he's trying to convince himself at times.
Which is exactly the problem Mauricio Pochettino faces. He needs a big performance from his players but it's by no means certain he will get it.