Pressure on Mourinho Increases as Man United Revenues Drop
There has always been a sense of destiny with Jose Mourinho and Old Trafford. This time, it's different. No heroic slide along the touchline, no buses parked; the Portuguese is the prey not the hunter. The media has the scent of blood in their nostrils and the hounds have been loosed.
United Revenues Hit
Manchester United are eight points adrift of fourth-placed Arsenal and run the very real risk of missing out on Champions League football. Doing so, triggers penalties in their lucrative Adidas kit supply contract.
United's revenues, already under pressure from the drop in gate receipts from appearing in the Europa League, are set to be hit with a £22.5m penalty if Mourinho fails to reach the top four.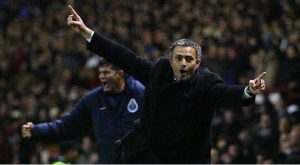 There's a long way to go this season but United are struggling, particularly at home. They battered Arsenal for 89 minutes and succumbed to a last-minute Olivier Giroud equaliser. The same happened this weekend with West Ham: possession dominated but a misfiring forward line is costing them dear.
In more than one sense. The wages paid to Wayne Rooney and Zlatan Ibrahimovic on their own are eyewatering; the rumoured £700k per week drain from United's bank account is not far off the annual wages bill of many small and medium-sized companies. United, with their turnover pushing the £500m barrier, considered the risk worth taking for both.
Having invested £150m on new players last summer, United are expecting Mourinho to achieve a top four finish at the very least. He wanted more but was told players had to leave first, not for the transfers themselves but the wages bill would not be allowed to increase any further.
Mourinho's Escape Route
Yet Mourinho has an escape route but only if he is prepared to invest his energies in taking it. Derided by English football players, managers and fans, the Europa League is used as a term of 'endearment' between supporters. Gooners are not shy in letting Tottenham know that the Europa League matches are played on "Spursday Night".
The recent 4 – 0 win over Feyenoord left United's destiny in their own hands. Second behind Fenerbahce, avoiding defeat when they travel to Ukraine will see them through. They could even top the group if the Turks don't win in Rotterdam.
At that point, the Champions League dropouts enter proceedings and United will fancy their chances of beating any of them.
Only if Mourinho fields his strongest side every time though. Whilst he has to balance the demands of the Premier League and chase the top four finish until it is mathematically impossible, he cannot afford to hedge his bets by weakening teams in Europe.
With the winners of the Europa League automatically qualifying for the following season's Champions League, little wonder Sevilla divert all their energies into winning it when their La Liga performances haven't been up to scratch.
It's a lesson Mourinho can't afford to ignore. And nor will the United bank manager.