Liverpool versus Tottenham will determine Premier League top 4 | Liverpool
On February 4, Liverpool will host Tottenham at Anfield. The showdown between the two rivals will dictate which of the two sides will finish in the Premier League's top 4. Liverpool are currently fourth in the league. The Reds are just three points ahead of fifth place Tottenham, and the fixture will be a six-point affair.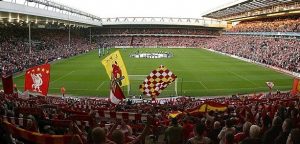 Liverpool have recorded the second most goals scored this term (50). However, the Reds will finish out the season without Philippe Coutinho. The attacking midfielder recently sealed a £142 million transfer to Barcelona. Liverpool are in the process of re-investing the money they acquired from Barcelona, and the likes of Thomas Lemar, Riyad Mahrez or another attacking player could be signed by the time Tottenham come to town.
Tottenham finished second in the Premier League a season ago. The team hasn't been able to replicate the form it produced in 2016-17, however. Dele Alli and Christian Eriksen have been good, but the duo has failed to reach their previous heights. Striker Harry Kane is scoring goals, and is likely to repeat as the Premier League's golden boot winner for a third straight year. Spurs have relied heavily on the striker, and against Liverpool's improved defence, could find things difficult when they arrive at Anfield.
The teams' previous meeting this season saw Tottenham defeat Liverpool 4-1 at Wembley Stadium. It was a humbling defeat for Jurgen Klopp's men as the Reds as it caped off a run of three games without a win in October. Kane scored twice while Alli and Heung-Min Son added goals for Spurs. Meanwhile, Mohamed Salah tallied Liverpool's only goal of the game.
The Reds are in a much different place now. But the loss of Coutinho could affect the final outcome of the fixture, especially if Liverpool do not adequately replace him during the transfer window. The team still has plenty of holes to fill during the transfer window, but Liverpool have already upgraded their defence. Virgil van Dijk arrived from Southampton. Now, a new attacking midfielder is on the team's shopping list. Will Liverpool sign someone before Tottenham arrives at Anfield?
Want to see Liverpool versus Tottenham on February 4? Visit www. WoWTickets.Football to get your seats for the big match.