Manchester United crash out of Champions League | Manchester United
It was supposed to be a magic night at Old Trafford as Manchester United hosted Sevilla in the Champions League last-16. However, the magic turned into a nightmare as Jose Mourinho's side crashed out of the Champions League with a 2-1 defeat.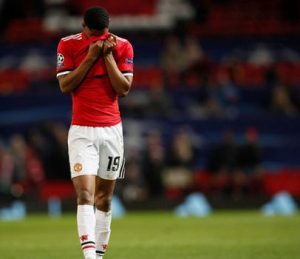 Manchester United, euphorically proclaimed the better side by the English media, put in another poor performance under Mourinho. The Red Devils looked clueless and dull for nearly the entire 90 minutes. The club's record transfer signing Paul Pogba didn't even start the fixture and had to make due with a substitute appearance in the 60th minute. The Frenchman's inclusion couldn't change the mood in the team. Pogba's performance, like his teammates, was lacklustre. The midfielder gave the ball away eight times during his 30 minute cameo and played only 20 passes accurately.
Despite Pogba's inability to complete a pass, it was Alexis Sanchez who turned in the worst performance for the Red Devils. Sanchez lost the ball 42 times during the match. The Chilean, who makes £500,000-a-week, was non-existent during the entire match and his inclusion in the team has been called into question by both pundits and supporters.
Mourinho's tactics didn't help as Manchester United lacked any kind of attacking force. The team's only bright spot was Marcus Rashford, who looked dangerous running at Sevilla's full-backs on the wing. However, Rashford had little to no support when making his runs. The youngster is a great talent, but he is so used to beating defenders with pace. He needs to add more to his game to be the finished product.
While Manchester United had plenty of faults during the 90 minutes, Sevilla continued to plug away until the team finally broke through the Red Devils' defence. Manager Vincenzo Montella selected Luis Muriel has his starting striker. The Colombian didn't put in the best performance, but he did tire Manchester United's centre-backs Chris Smalling and Eric Bailly. It allowed the smaller, quicker Wissam Ben Yedder the ability to out pace both when he was introduced to the game. Ben Yedder scored Sevilla's opening goal with just his third touch of the game, and four minutes later, he put the match out of reach with a header he had no right to score.
Sevilla were hands down better than Manchester United over 180 minutes. The Red Devils struggled to find any attacking firepower during both matches and paid the price.
Manchester United are still competing in the FA Cup, and the side will play in the quarterfinals on Saturday against Brighton. A loss at Old Trafford and Mourinho's week will go from bad to worse very quickly. Meanwhile, Sevilla will find their Champions League fate on Friday morning with the quarterfinal draw.