What's the matter Jose? You OK Hun?
Manchester United's capitulation at Stamford Bridge was a highlight of the Premier League season so far. I'm an Arsenal fan and there's nothing better than see United – Mourinho in particular – fall flat on their faces.
Even before the Premier League stoked the fires, there was a malevolence to the rivalry with the Mancunians, or the rest of the Home Counties since very few United fans hailed from Manchester. In the global games now, that sniping comment isn't relevant with most English clubs having a wider fanbase abroad than at home.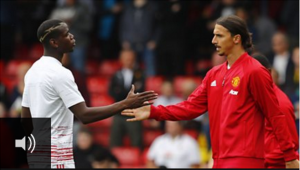 Following summer investment of astonishing proportions, Man United are back floundering in the Premier League. Excuses were quickly trotted out before the last international break; Mourinho would need two or three transfer windows to sift through the squad he had inherited from Louis Van Gaal.
Quickly stories appeared about players not being good enough. Interestingly, one of those Daley Blind remains a fixture of the Man United defense, with Marcus Rojo also appearing in the first team. Both were prime candidates for departing Old Trafford. Both are held responsible for United's inconsistencies.
Mourinho's media friends are working overtime to protect their copy writer. If nothing else, his truculence is guaranteed to fill a few column inches. The media's defence of the Portuguese is stronger than the one ManU showed at Chelsea.
A small example came on the BBC Sport website: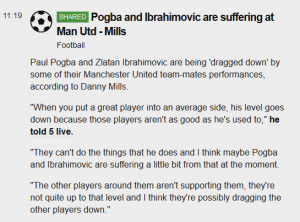 Not a word about poor tactical selection or Mourinho's predictability which cost them dear. Manchester United weren't helped by the calamitous start but they had 90 minutes left to recover. The Arsenal version of that story is "Sanchez and Özil aren't doing enough to lift their team-mates". Paranoia? No, the Daily Mail already accused Özil of "nicking a living" so there's grounds for it.
There are those who believe Mourinho was unfairly maligned for his part in the Eva Carneiro case which ultimately caused his Chelsea downfall. Or more likely gave Roman Abramovich the excuse to use poor form as the reason to sack him.
Football rewards failure; it has to otherwise no manager would be kept in employment. Mourinho, at his boorish worst, is the epitome of Premier League football: brash, obnoxious, egotistical; the polar opposite to the refreshing breeze which danced along the touchline when his Porto side dumped Manchester United out of the Champions League.
But now that lack of charm serves no purpose. Now he has to deliver to the United faithful in a way he has never done so before: with style. His natural defensiveness, displayed at Anfield, isn't acceptable at Old Trafford. Mourinho won't understand why; he wins at any cost. Style doesn't feature in his top five requirements for winning either.
It's why he has a short shelf life. Mourinho won't last two decades at a football club in the way Arsène Wenger has. His successor will knock down the walls he has constructed as quickly has he built them.
And Jose Mourinho wouldn't have it any other way.