Football Tourism: Welcome to the Estadio Wanda Metropolitano
Travelling around Europe to see football matches and stadiums is one of the most popular activities for football fans. In recent years, football tourism has become very popular, and books, magazines and even podcasts have been dedicated to the practice.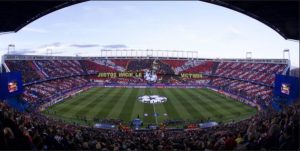 One of the hot, new stadiums for fans to see is Atletico Madrid's newly opened Estadio Wanda Metropolitano. The team's new home replaces the famed Vincente Calderon Stadium and it allows for a further 13,000-plus fans to attend matches.
The Wanda – as it is already being affectionately called – opened on September 16th as Atletico defeated Malaga, 1-0. The stadium is a brilliant piece of architecture, and football fans from all over will enjoy watching one of the most exciting teams in Europe play their games inside its confines. But travelling to see football isn't just about the football, as football tourism is also about seeing the city and taking in its sights.
Madrid is home to a team that often puts Atletico into the shadows, and that is Real Madrid. The two sides from the Spanish capital play a fiery derby every season. Of course, Real Madrid have dominated the fixture throughout its history, winning 86 matches to Atletico's 39. However, with the new Wanda stadium, things could change.
It isn't just Real Madrid that will visit the Wanda to battle Atletico this term. La Liga's top team, Barcelona, will visit the stadium on October 15th in a match that could decide the Spanish title come May. Atletico are currently four points below Barcelona in Spain.
Barcelona aren't the only big team that football tourists can see Atletico Madrid will play this term. The team are currently playing in the Champions League and will face off against the likes of Chelsea at the Wanda on September 27th. November 19th will see Atletico host city rivals Real Madrid, while another massive Champions League game will take place on November 22nd against Roma.
Football fans wanting to see one of the best new stadiums in Europe, and some cracking action, should waste little time and head to the Estadio Wanda Metropolitano as soon as possible.