La Liga isn't just about Barcelona and Real Madrid in 2017-18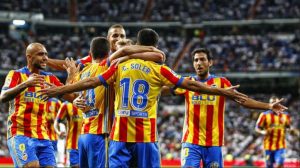 La Liga is in the midst of one of its most exciting league campaigns in years. Not since 2013-14 when Atletico Madrid won the competition, has it seemed so wide open. Of course, Barcelona currently lead the league, but it isn't by much going into round 12.
Barcelona are undefeated, and the team's only slip up came in a draw against Atletico in October. The side have been incredibly strong, conceding just four goals this term. But Barcelona haven't been able to shake upstarts Valencia from their tails.
Valencia have been a surprise package this season. It was suppose to be a re-building year after the club shed itself of many high-priced players with little upside on the pitch over the summer. In their places have come a new crop of players that are younger and ready to give their all on the pitch. Valencia are led by manager Marcelino, who has revolutionized the team's playing style and the players' diets. It has made them much more hungry, both literally and figuratively.
Valencia have been scoring goals for fun and are level with Barcelona for most goals scored in La Liga (30). The team are playing an exciting brand of counter attacking football and have players that will be signed by other "big" clubs in the coming transfer windows.
The big question surrounding Valencia currently, is whether the team can continue their form. Right now, Valencia are four points ahead of Real Madrid in second place and just three back of first place Barcelona. Winning La Liga isn't Valencia's objective, but right now it is a possibility if the team can keep up their form. They will need some luck along the way. Valencia's goal from the start of the season is to qualify for the Champions League, and right now, the team are succeeding in their plan to return to Europe.
Valencia have a sterling record against La Liga's top sides this season. The club drew with Real Madrid, although they should have won, and took a point from Atletico. Valencia then pounded Sevilla 4-0. Before Christmas, Valencia will get two more big tests. Barcelona visit Mestalla on November 26, and Villarreal arrive on December 23 to finish the year. Both games will be massive fixtures, and two wins means Valencia could go into the winter break as the best team in La Liga.
Want to see Valencia, Barcelona, Real Madrid, Atletico Madrid or any of the teams in Spain live in stadium? WoWTickets.Football has your seat to great La Liga action and more. Visit us now for tickets.