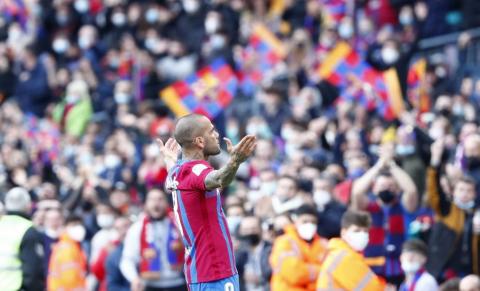 La Liga, the Primera Division, the place to be in European league football. The finest players in the world all head for Spain for the best football and stadia filled with supporters who live, breathe, eat and drink their favourite clubs. Booking La Liga tickets with WoWTickets.football is 100% secure - so don't wait and be a part of the excitement. From Barcelona to Malaga, Madrid to Valencia, Bilbao to Sevilla; the minute the players tread onto the turf, you'll be swept along by the club hymn being passionately and lustily sung by a devoted congregation who worship at these footballing temples every week. FC Barcelona retained their title last season but it went down to the wire with both Real Madrid and Atletico Madrid pushing them all the way. You don't have to watch the top of the table matches for excitement – there is as much drama at the bottom of the table with four clubs fighting to avoid finishing in the last two relegations spots on the final day of last season. Getafe and Rayo Vallecano, Madrid's two smaller clubs, are looking to bounce back from the Segunda Division straight away. There are so many rides to enjoy in this footballing carnival! Check out El Clasico tickets and tickets to FC Barcelona and Real Madrid.
When did the La Liga start?
The Primera Division, as La Liga is properly called, began in 1929. The ten founding members were Barcelona, Real Madrid, Athletic Bilbao, Real Sociedad, Arenas Club de Getxo, Real Unión, Atlético Madrid, CE Europa, Espanyol and Racing de Santander.
Barcelona, Real Madrid and Athletic Bilbao have never been relegated from La Liga.
First Winner
Barcelona were the first champions in 1929, finishing two points ahead of second placed Real Madrid. Racing de Santander were bottom and faced Sevilla in a relegation play-off. Santander won 3 – 2 on aggregate.
Most Champions League Wins
Real Madrid have won La Liga on 32 occasions and finished runners-up 23 times. Next on the list is Barcelona with 24 title wins and 24 runners-up placings with Atletico Madrid winning the title 10 times and finishing second 8 times.
The other champions have been:
Athletic Bilbao (8)
Valencia (6)
Real Sociedad (2)
Deportivo La Coruna, Sevilla and Real Betis (1 each)
Most Memorable Moment in La Liga
There have been many fabulous moments and incredible goals scored in La Liga history. Some of the greatest players in the world – Puskas, Zidane, Maradona, Cruyff, through to Cristiano Ronaldo and Lionel Messi – have graced the Spanish league but one moment stands out, transcending the drama and brilliance.
Never the best of enemies, Real Madrid were already crowned champions in 2008 when the two sides met at the Bernabeu. Barcelona put the battles of the past to one side and in a moment of sporting excellence, formed a guard of honour for Real as they entered the pitch, amid tremendous applause from the Madrileños.
La Liga Dates
The Spanish season begins in August and ends in May with 380 games played in a season.
FOLLOW LA LIGA ON SOCIAL MEDIA
Facebook: https://www.facebook.com/LaLiga
Twitter: https://twitter.com/laligaen
YouTube: https://www.youtube.com/user/laliga
Instagram: https://www.instagram.com/laliga/
Spotify: https://open.spotify.com/user/laliga
Football News
Nov 19, 2017 Sun 8:46

 ...

Oct 6, 2017 Fri 15:53

Sep 30, 2017 Sat 9:58

 ...

Apr 12, 2017 Wed 17:39

Nov 30, 2016 Wed 8:15