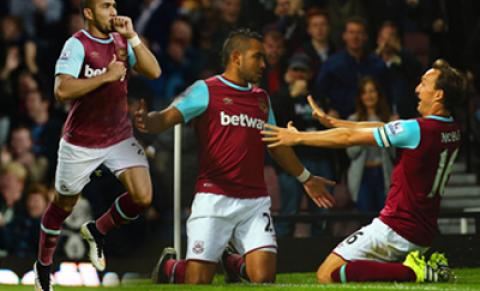 With a new home at the London Stadium, this is your chance to be a part of West Ham United's new history. The Hammers passionate supporters brought their famous club anthem "I'm Forever Blowing Bubbles" with them from Upton Park and it's a fantastic footballing moment when the whole crowd joins as one to sing their hearts out for the lads. West Ham pride themselves on playing football in the proper way and you'll feel the love of your East End family as you take your seat in a fantastic footballing arena. And in the heart of London, the nation's rich past is close enough to touch with the major tourist attractions a short tube ride away. The city that never sleeps has plenty to offer for everyone at any time of the day or night. A West Ham match makes your London trip unforgettable
West Ham United Fixtures
We apologise, but currently there are no tickets available. To receive a ticket alert when events will become available for sale, please sign up to receive a ticket alert.
London Stadium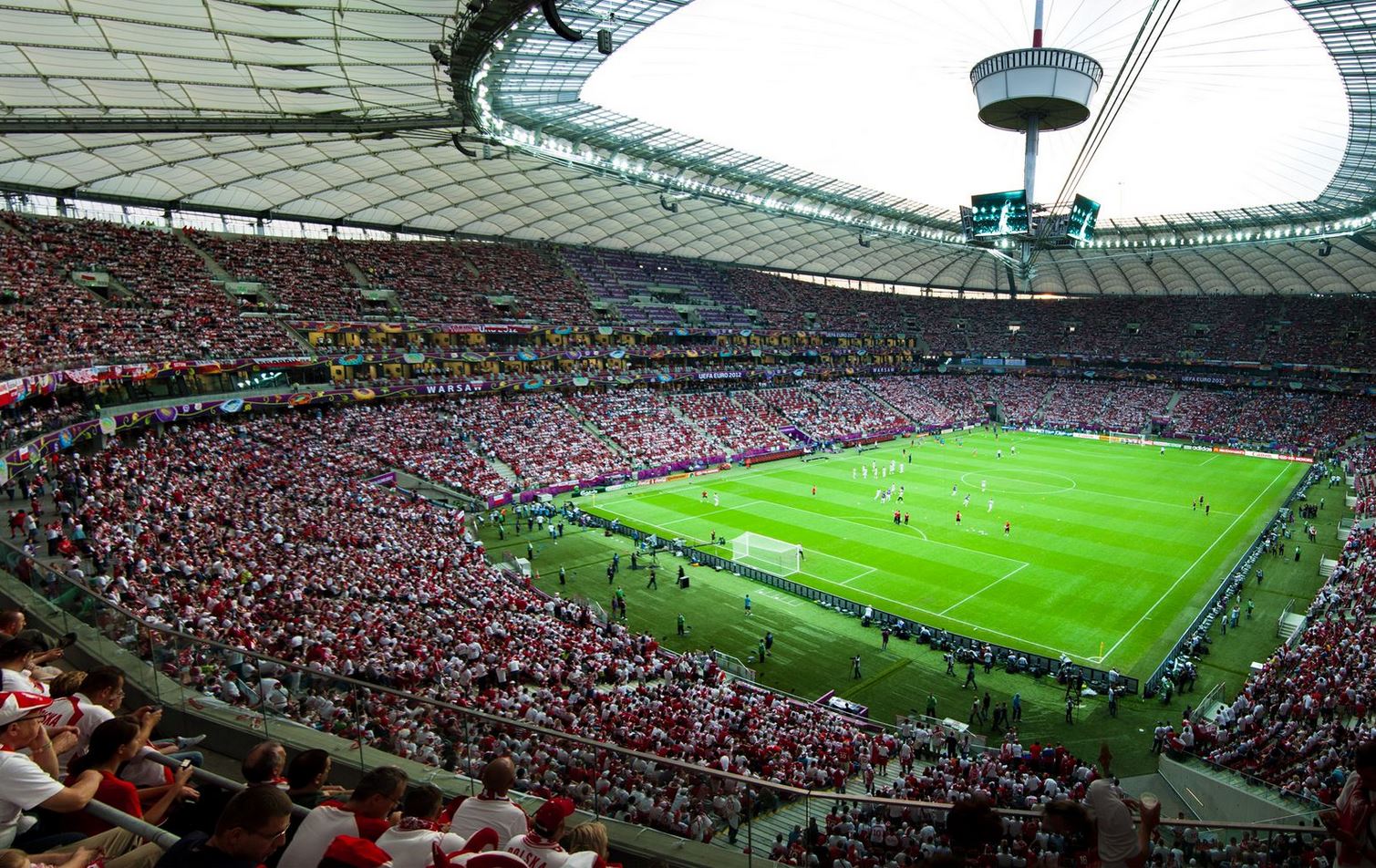 The controversy over West Ham United's tenancy died down and the Premier League arrived at the Olympics. London's Olympic Stadium to be precise.
Leaving Upton Park broke the hearts of many long-standing – and long-suffering – fans but those who have travelled to their new home can only be impressed with the facilities at the London Stadium.
Although the capacity of the stadium is 66,000, licensing regulations mean that it is restricted to 57,000 for West Ham matches. Those rules haven't dampened the atmosphere with the Hammers faithful as fervent as ever in their support of their team.
There are several things to bear in mind when buying West Ham United tickets
West Ham United Ticket Prices
First, ticket prices in the secondary market are always above "face value" because they are traded by card owners who don't want them and sell them to the highest bidder. Having said that there are several major factors that will affect ticket prices:
Rank in the league table – this is not always true, but higher rank will definitely push up the demand for tickets
Tourist attraction - London is the hub of Britain's nightlife, unparalled in the UK. Not only that but with so many tourist attractions such as Buckingham Palace, the Tower of London, the London Eye, among the hundreds on offer, there is no better city to stay in the UK.
Weekends vs. Weekdays – weekend matches, when people are off work, are of greater demand which of course affect prices.
Local Rivalries – when West Ham United is playing against Arsenal, Tottenham or Chelsea, there will always be a greater demand for tickets. When Liverpool and Manchester United are in town, tickets are hard to come by such is the historic rivalry between the clubs.
Tiers – there are differences in prices between the various seating location you choose and it's all about your personal preferences. Some fans wouldn't go for less than the Club level/Hospitality tickets, and some would want specifically to be seated in the Long side central lower tier to see everything from up close. Others would feel great viewing the entire ground from the Long side upper tiers.
West Ham United Match Ticket Categories
West Ham United operate a match category system: A, B, C. Tickets are priced based on the opposition with 'A' the most expensive. Local derbies and teams at the top of the table will be dearer to buy in the secondary market.
Remember that the categories change from one season to the next. Just because a match is 'Cat B' this year doesn't mean it won't be a 'Cat A' next year.
Selecting the Right Seats – London Stadium Plan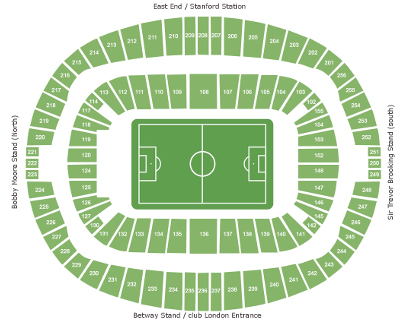 1- Which Seats to Choose?
There are four stands at The London Stadium. The long sides are called the Betway Stand and East stands.
All of the stands offer an unobstructed view of the pitch but remember this was designed as an athletics stadium, not a football ground.
The Betway Stand is the 'primary' stand in the stadium. West Ham's premium 3,600 seats, Club London, are hosted here, with access to restaurants and bars. The illusion of a third tier is created by the positioning of the corporate seats at the front of the upper tier.
Opposite the Betway stand is the second long side, the East Stand, the only 'unnamed' stand in the ground. Instantly recognisable thanks the club's name and crest adorning the stand.
The first short side is the the Bobby Moore Stand, originally called the North Stand. Champions Place is situated outside of this stand, with statues of the club legends and an area where the West Ham faithful can buy bricks and slates to be placed on the concourse, bearing their own message.
The final short side is the Sir Trevor Brooking Stand. Away fans have three sections in each of the upper and lower tiers.
The away fan lower tier seating is retractable, meaning that there is a large gap between the two tiers which suck the atmosphere out of the ground at times.
Those in the front rows find themselves at pitch level, if not slightly below which must be the most unqiue view in the Premier League! Behind the stand is club megastore.
2- Which Tier to Choose?
Upper Tiers
The London Stadium offers a fantastic and unrivalled view of the action. The same architects who designed Wembley and the Emirates worked on this ground as well.
Every seat in the upper tiers has an unobstructed view of the pitch. But be warned, the stands are all further from the action than you might be used to; binoculars are not a fashion accessory here, in the upper tiers they are an absolute necessity.
The best advice we can give is to seek out seats in the front dozen or so rows if you want the best views.
Handily placed at either end of the ground, large video screens replay key moments in the game.
Concessions in both upper and lower tiers accept cards and are plentiful which means queues move quickly.
Lower Tiers
Ever watched the game from pitch level? You'll feel you are in the lower tiers at the front! It's a match seen through the legs of the players from this perspective.
As with the upper tiers, none of the views are obstructed and the atmosphere comes mainly from these seats. When the renditions of "I'm forever blowing bubbles" begin, the noise rises from the lower tier through to the upper, a crescendo which reverberates around the stadium.
Segregation is an issue at the London Stadium. It's improving as the teething troubles are worked through but it will take time for them to be fully resolved. It's led to flash points between home and away fans so it's advisable to look at the long stands for the best views of the action.
Family Section Tickets
The London Stadium's family section is in the upper tier of the Bobby Moore stand. Presumably this is because the club thinks the young have good eyesight and can see long distances!
However, West Ham have repeatedly stated that the whole of the ground is 'family friendly' and while there is a family section, children are welcome in all areas of the stadium.
The club states that children under the age of 14 must be accompanied by an adult.
How to Buy West Ham United Tickets Online?
Getting tickets on the primary market is possible but only if you're a club member or you've missed the public sale for non-members (which often is sold-out in a matter of minutes or hours tops).
Your best chances are in the secondary market. You have a variety of available categories. Pairs of tickets are also available (WoW guarantee them for all tiers), but for more than a pair or groups – contact us – we have it available in several tiers but not in all categories and not always. However, you should be able to find seats in the same block, reasonably close together. For the big matches, such as those against West Ham City and Liverpool, you are struggling but also for games such as Arsenal and Chelsea.
And you never know your luck; other supporters can be accommodating and willing to swap seats with you – it's a case of being lucky on the day.
The most popular matches are Saturday 3 pm kick-offs, but all games on Saturday's are popular. Sunday 4 pm – typically live on TV – can cause some problems with transport, so there is a brisk activity in the secondary market for these matches. It depends on the opposition.
Midweek matches see a lot of tickets available.
Follow these steps to complete your purchase of a ticket for West Ham:
Select your West Ham United fixture from our events table above or our match menu. You can buy for West Ham United home games or away tickets.
On the West Ham United events page, locate the seating section you want and click 'Buy Ticket.'
On the checkout page, please login with your user information or select checkout as a guest and fill in your personal information then press 'Next'.
In the review your order page you will be able to review West Ham United tickets that you have ordered and the total price you will be paying in the next stage if you have been given a coupon or discount code, enter this in the box and click "apply". The final West Ham United ticket prices will be calculated and then click "Proceed to payment". There are no hidden fees, or costs and the total price you see are what you will pay for West Ham United football tickets.
After clicking "Proceed to Payment," you will be redirected to our highly secure payment page where you should enter your payment details and process the payment.
After payment is successfully processed, you will be redirected back to our site, and you will receive a confirmation message. An email with your West Ham United ticket order details will be sent to the email address you have provided during your registration.
West Ham Quick Facts
Nickname: Hammers / Irons
Formed: 1895
Ground: London (Olympic) Stadium
Manager: Slaven Bilic
Captain: Mark Noble
Founded in 1895 as Thames Ironworks, the club changed its name to West Ham United in 1900 and moved to their spiritual home of the Boleyn Ground – or Upton Park as it is more commonly known – in 1904.
Never the most successful of clubs, the Hammers cherish their tradition of the stylish football. The club is sometimes known as the 'Academy of Football'. West Ham's biggest success has come in cup competitions, losing the first FA Cup final played at Wembley Stadium in 1923 but winning in 1964, 1975 and sensationally beating Arsenal in 1980.
Many of English football's biggest names have passed through the doors of Upton Park. Ron Greenwood, former England manager, was in charge of West Ham for thirteen years beforehand. Sir Bobby Moore, Sir Geoff Hurst, Martin Peters of the England 1966 World Cup winning team were all Hammers, Jimmy Greaves joined in 1970. Sir Trevor Brooking, a majestic midfielder starred in the 1970s whilst modern England internationals. 2016/17 was a year to forget. It started badly with an early exit from the Europa League and only got better when relegation was avoided. This time, the Hammers will feel more at home at the Olympic Stadium. Fans and players alike suffered teeting problems but as the season wore on, it felt more like home. The club are ready to spend big in the transfer market and get the bubbles flying once again.
Honours
Football League Division Two / Championship (2):
FA Cup winners (3):
1964 v Preston North End, 3 – 2
1975 v Fulham, 2 – 0
1980 v Arsenal, 1 – 0
European Cup Winners Cup (1):
1965 v TSV Munchen 1860, 2 – 0
Leading Goalscorer
Vic Watson, 326 goals in 505 appearances
Watson was signed by West Ham in 1920 for £50 from non-league Wellingborough. He scored 298 league goals and 26 in the FA Cup, as well as gaining five England caps, scoring four goals.
In 1929/30, he set the club record for most league goals in a season (42), as well as most in all competitions in one season (50). The year before, he set the record for most goals in one game, scoring 6 against Leeds United. That tally was matched by Sir Geoff Hurst in the 1968 meeting with Sunderland.
Greatest Moment
30th July 1966, Wembley Stadium. Not strictly a West Ham moment but one the club is rightly proud of. England 4 West Germany 2 or West Ham United 4 West Germany 2. Geoff Hurst and Martin Peters, England's goalscorers on that day, both played for the Hammers at the time whilst England captain Bobby Moore is forever associated with Upton Park.
Official Social Pages for West Ham United Football Club
Follow West Ham United FC on:
Facebook – http://www.facebook.com/westhamunitedofficial
Twitter – http://twitter.com/westhamutd
Google+ – http://plus.google.com/+westhamunited/
Instagram – http://instagram.com/westham
Directions to London Stadium
• Closest tube stations: o Stratford o Stratford International o Hackney Wick
Closest national rail stations: o Stratford (also Docklands Light Railway)

Stratford International (also Docklands Light Railway) •

Bus routes to Stratford City bus station are:

25, 86, 97, 104, 108, 158, 241, 257, 262, 276, 308, 425, 473, D8

Use the Transport for London journey planner for your trip to West Ham
Football News
Feb 12, 2020 Wed 20:54

West Ham's London Stadium is one of the newest places to watch Premier League football. West Ham's London Stadium...

Nov 3, 2017 Fri 7:29

Oct 12, 2017 Thu 20:15

 ...