Premier League football transfer flops 2017-18
The English Premier League summer transfer window closed just over a month ago. Several big money signings have so far failed to produce the performances they were bought for. The good news is, things could turn around, but they better do so soon.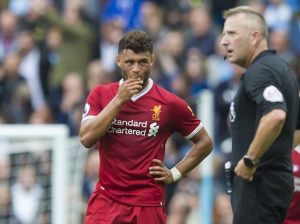 Gylfi Sigurdsson, Everton
Everton bought Gylfi Sigurdsson from Swansea for £45 million. His performances for Swansea over the last two seasons made everyone believe he was one of the best players in the Premier League. The Icelandic international has failed to produce anything that has resembled his best since joining Everton. It doesn't help that Everton have been awful. In six Premier League appearances, Sigurdsson has scored zero goals and zero assists. It has to get better from the attacking midfielder or he is destined to be labelled a huge flop at Goodison Park.
Everton travel to Brighton for matchday 8.
Alex Oxlade-Chamberlain, Liverpool
When Liverpool paid Arsenal £40m for Alex Oxlade-Chamberlain in August, it was confusing. The Reds didn't need the player and effectively, the club paid a large sum for a back up. Since arriving at Anfield, Oxlade-Chamberlain has played four times. All four appearances were from the bench. In all, he has played just 73 Premier League minutes for the Reds. The amount of time he has spent on the pitch makes the purchase even more head scratching. It also begs the question of why a a team with top four aspirations shelled out so much money on a player that wasn't even that important of a player at his former club?
Liverpool host Manchester United on matchday 8.
Joe Hart, West Ham
Joe Hart joined West Ham on loan, so there wasn't a large fee paid for his services. The Hammers are paying the English international a large wage, however. West Ham may be out of the relegation zone, but the team have been poor. West Ham's 13 goals conceded is the second most in the Premier League, and Hart hasn't looked great. He has faced 89 shots and made 15 saves. The good news is, he has the potential for good performances. The team have kept three clean sheets, with all three coming in the last four fixtures. Hart looks like he could be on his way out of the doldrums. At least that's one player.
Check out West Ham's upcoming matches and don't miss a minute.