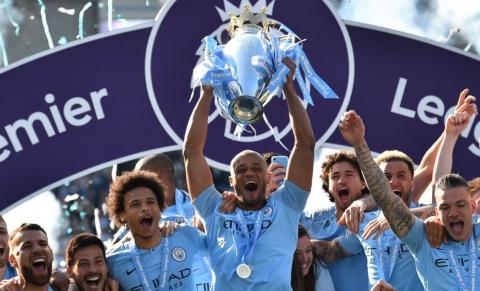 A trip to the Etihad is not to be missed. You can see the love of football from the stadium to the other parts of a superb soccer complex. And when you're inside, the experience is complete. "Blue Moon" is sung with a passion and spirit you won't believe is possible and with Pep Guardiola pulling the strings on the touchline, Man City are playing some of the finest football ever seen in English football's top flight. This is their time, when the eyes of world are on them and you as you take your place in a genuine footballing town. Manchester is famed for its nightlife and a fantastic time is guaranteed. The city's musical history from New Order to the Stone Roses, house music and now their contemporaries, is on every corner. You can't help but love your time in the jewel in north west England's crown.
You can buy Manchester City tickets right here, online for all of their hottest fixtures at home and away. We've got a great selection of MCFC tickets all around the stadium with some terrific seats at amazing prices – whatever your budget you can join the crowd and experience the excitement of watching Man City live.
Man City Etihad Stadium
Directions to Etihad Stadium
Address: Ashton New Rd, Manchester, United Kingdom, M11 3FF
Using Public Transportation:
Closest Metrolink station:

Etihad Campus o Holt Town (closed for one hour after final whistle)
Velopark Metrolink (closed for one hour after final whistle)

Closest national rail stations:
Man City Quick Facts
Nickname: City, The Citizens, The Sky Blues, Blues
Formed: 1880
Ground: Etihad Stadium
Manager: Pep Guardiola
Captain: Vincent Kompany
Manchester City were founded in 1880 as St Mark's (West Gorton) before becoming Ardwick, eventually settling on their current name in 1894.
The club enjoyed mixed success until the 1930s, swapping the First and Second Divisions regularly, winning the FA Cup twice and the title in 1937. City's claim to fame for a while stemmed from Bert Trautmann's heroics in the 1956 FA Cup final when he finished the match despite breaking his neck.
The late 1960s was their 'Golden Age' until recently. A title, FA Cup, League Cup and Cup Winners Cup fed optimism but the glory ended in 1976 with the League Cup. Despite signing Steve Daley for a then-record £1.4m in 1979, City were in a downward spiral, culminating in 1998 with relegation to Division Two (now League One).
Since then it's been an upward curve. Returning to the top flight in 2002, City have gone on to win three Premier League titles thanks to the backing of the Abu Dhabi United Group. Money (mostly) wisely spent has delivered continued success, with City landing Pep Guardiola as they seek to win the Champions League, the holy grail of European football.
For the first time though, Guardiola didn't win a trophy in his career. City were fantastic to watch, unplayable at times but defensive problems were their downfall. Monaco knocked them out on away goals rule after scoring 6 over the two legs; Arsenal, fragile and creaking, claimed an FA Cup final berth with a 2 - 1 semi-final win at Wembley. But City have responded; £80m spent in the summer on Ederson and Bernardo Silva. They are messing around with just two objectives for 2017/18: the Premier League and Champions League. It's going to be a magical ride watching them aim for their dreams.
Honours
First Division / Premier League (4):
1936 – 37, 1967 – 68, 2011 – 12, 2013 – 14
Second Division / Championship (7):
1898 – 99, 1902 – 03, 1909 – 10, 1927 – 28, 1946 – 47, 1965 – 66, 2001 – 02
FA Cup (5):
1904 v Bolton Wanderers, 1 – 0; 1934 v Portsmouth, 2 – 1;1956 v Birmingham City, 3 – 1;1969 v Leicester City, 1 – 0 ;2011 v Stoke City, 1 – 0
League Cup (4):
1970 v West Bromwich Albion, 2 – 1;1976 v Newcastle United, 2 – 1; 2014 v Sunderland, 3 – 1; 2016 v Liverpool, 1 – 1 (3 – 1 on penalties)
UEFA Cup Winners Cup (1):
1970 v Gornik Zabrze, 2 – 1
Doubles (2):
1970 League Cup and European Cup Winners Cup
2014 Premier League and League Cup
Leading Goalscorer
Eric Brook 179 goals in 499 appearances
Eric Brook joined Manchester City in 1928 in a joint deal with Fred Tilson from Barnsley in a £6,000 deal. Brook quickly earned an England call-up, with the focus on his hard-working performances. He would end his career with 18 caps, scoring 10 goals.
Whilst at City, he won the league in 1936 – 37, as well as the FA Cup in 1934. His career ended tragically in 1940 when on his way to represent England in a wartime international, he was involved in a car crash which left him unable to head a football.
Greatest Moment
13th May 2012, Etihad Stadium. The maths was simple. The Premier League champions would be from Manchester; it was just a question of who it would be: City or United.
Level on points, City had a +7 advantage in goal difference. United travelled to Sunderland knowing only a win would do. They delivered three points with a 1 – 0 win. The final whistle blew at the Stadium of Light and all attention turned to the Etihad.
Inexplicably, City were losing 1 – 2 until Edin Dzeko equalised two minutes into stoppage time. United were about to be crowned champions when with almost the last kick of the ball, Mario Balotelli found Sergio Aguero in the penalty area and the mercurial Argentinian drove the ball into the net. 3 – 2, City were champions!
It was the only assist that Mario Balotelli provided in his time in English football.
Buying Manchester City match tickets
Follow these steps to complete your purchase of Man City tickets:
Select your Manchester City fixtures from our events table above or our match menu. You can buy MCFC home tickets or for City away tickets.
On the Manchester City events page, locate the seating section you want and click 'Buy ticket'
On the checkout page please login with your user information or select checkout as a guest and fill in your personal information then press 'Next'.
In the review your order page you will be able to review Manchester City tickets that you have ordered and the total price you will be paying in the next stage if you have been given a coupon or discount code, enter this in the box and click "apply". The final Man City ticket prices will be calculated and then click "Proceed to payment". There are no hidden fees or costs and the total price you see is what you will pay for Manchester City tickets.
After clicking "Proceed to payment" you will be redirected to our highly secure payment page where you should enter your payment details and process the payment.
After payment is successfully processed you will be redirected back to our site and you will receive a confirmation message. An email with your Blues tickets order details will be sent to the email address you have provided during your registration.
Official Social Pages for Manchester City
Follow Manchester City on:
Facebook – https://www.facebook.com/mancity
Twitter – https://twitter.com/mancity
Instagram – https://www.instagram.com/mancity
Google+ – https://plus.google.com/+mcfcofficial/posts
YouTube – https://www.youtube.com/mcfcofficial
HOW TO GET TO MANCHESTER CITY
Refer to Etihad Stadium page
Football News
Nov 12, 2017 Sun 19:50

 Manchester City are running away with the English Premier League...

Sep 1, 2017 Fri 12:59

Jul 2, 2017 Sun 10:52

English Premier League Season 2017/18...

Mar 27, 2017 Mon 10:43

Dec 21, 2016 Wed 15:10

Everton v Arsenal – 2-1 Back-to-back defeats at Everton and Manchester City saw a nine-point gap open between Chelsea and Arsenal, with the Gunners slipping to fourth...