Premier League football on Boxing Day – The greatest day of the year
According to research, the average British male watches seven hours of football during the holiday period. The number is astonishing, although its obvious that football lovers have more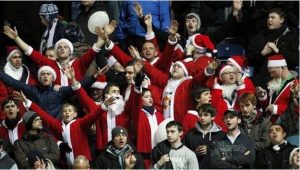 time to devote to the beautiful game over the festive period.
In particular, Boxing Day is the biggest day of the holiday season for fans to watch games. Why is Boxing Day such a big day in England? It is simple. For one, England's football leagues have had a tradition of playing matches the day after Christmas. Think of it as a gift for the fans the day after Santa delivered presents to all the good little boys and girls around the world. That tradition has continued throughout the decades and fans flock to the games. Games bring fans, friends and families together, especially for those people who only return to their hometowns a few times a year.
England is unique in the football world as it is the only country that doesn't take a winter break. Germany, France, Italy, Spain and many more take the festive period off; but England powers through it, giving fans plenty of reason to go see a live fixtures.
In 2016, Boxing Day (round 18) had the highest percentage of capacity in stadiums compared to the 17 previous weeks. According to Inside World Football, less than 9,000 seats combined throughout the 10 Premier League fixtures played on Boxing Day were left empty. That is an amazing number of filled seats.
The holiday season in 2017 will present a packed week and a half of Premier League action that kicks off on Saturday December 23rd. Three days later, the Boxing Day fixtures will be played with Chelsea, Liverpool, Manchester United, Newcastle and Tottenham all hosting matches. Four days after Boxing Day's football fest, teams will tangle once more with Liverpool and Leicester City highlighting that fixture list. It isn't over yet, as two days later on New Year's Day, 10 more fixtures will be played with Arsenal hosting Chelsea, and Everton playing Manchester United.
For anyone that loves football, the holiday season, especially Boxing Day, can't be missed.
Being in your favourite football team's ground for a big Boxing Day match or a match during the holiday period is great. If you are looking for a gift for your husband, wife, child or friend, then surprise them with tickets to a Premier League match during the holiday season. It will be a gift they won't forget anytime soon.