Liverpool's Anfield stadium is the most famous of English football grounds. There is no better place to watch the Premier League than the Kop. You'll feel the hairs on the back of your neck stand on end as "You'll Never Walk Alone" is sung with a passion matched nowhere else by football fans on the planet among a sea of red and white scarves. This is history, this is your chance to make history as Jurgen Klopp brings back the glory days to the city. You can't escape the glorious past as you walk through the Shankly Gates. Get those Liverpool football tickets and be a part of the thrill. With the new main stand increasing the capacity to over 54,000, there's never been a better time to share your love for the Reds than now! And when it's all over, the nightlife of Liverpool and Manchester is on your doorstep to complete a fantastic footballing weekend away.
Anfield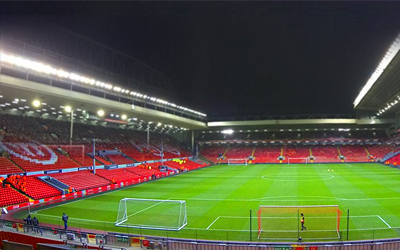 Anfield is rocking again. Jurgen Klopp's enthusiastic management and the attractive football on the pitch have seen supporters flock to a revamped stadium as the team aims to bring back the glory days.
Liverpool's stadium, Anfield, is one of football's most iconic stadiums, known around the world for the passion and wit of the local fans. Hearing the Kop belt out "You'll never walk alone" before a match makes the hairs on your arms stand on edge. It's that fantastic a feeling.
Don't forget to stay to the end when Klopp and the players acknowledge the supporters after the final whistle. A little bit of the Bundesliga in England and a moment when you know that the players understand what it means to play for Liverpool FC.
There are several things to bear in mind when buying Liverpool tickets:
Liverpool FC Ticket Prices
First, ticket prices in the secondary market are always above "face value" because they are traded by card owners who don't want them and sell them to the highest bidder. Having said that there are several major factors that will affect ticket prices:
Rank in the league table – in most cases, the higher the rank is, will definitely push up the demand for tickets
City where the match is being held. As well as its own burgeoning reputation for a great night out, Manchester is close and has a club scene unparalled in the UK.
Weekends vs. Weekdays – weekend matches, when people are off work, are of greater demand which of course affect prices
Local Rivalries – when Liverpool is playing against Everton or Manchester United, there will always be a greater demand
Tiers – there are differences in prices between the various seating location you choose and it's all about your personal preferences. Some fans wouldn't go for less than the Club level/Hospitality tickets, and some would want specifically to be seated in the Long side central lower tier to see everything from up close. Others would feel great viewing the entire ground from the Long side upper tiers.
Liverpool Game Categories
Liverpool don't operate a match category system. Tickets are priced based on which stand you are sitting in and which tier the seats in. Although the club offer discounts for OAPs and children, these may not be reflected in the pricing on the secondary market.
Selecting the Right Tickets – Anfield Stadium Plan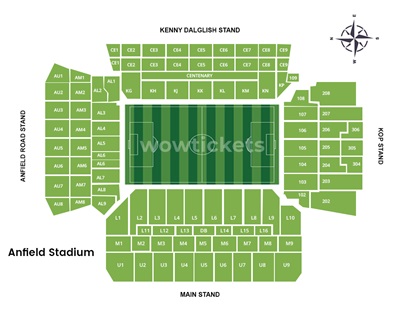 1- Which Seats to Choose?
There are four stands at Anfield. The long sides are called the Centenary and Main stands.
The Main Stand
Opened in September 2016 against Leicester City and saw the capacity at Anfield rise to 54,000. The newest part of the ground, it's one of Europe's biggest stands and is visible from all over the city. It has hospitality seating in the middle tier but other supporters get to use their own state of the art facilities It's a popular choice with supporters as you get to see the players as the emerge from the steps under the Centenary Stand and you'll be the conductor for the Kop Choir. They wait for your cue to tell them that the action is about to begin.
The Centenary Stand
Opposite the new stand is the second long side, known as the Centenary Stand. This houses the dressing rooms, directors' box and the heart of Anfield: the boot room. A second tier added in 1992 celebrated the club's centenary and ensured that more fans can see each match.
Anfield Road End
The first short side is the Anfield Road End which houses the visiting supporters (away fans), split into the lower and upper tiers, depending on the match. This is the northern end of the ground – the Main Stand is to the west, Centenary Stand to the east while the second short side is to the south.
Kop End
Saving the best until last, the second short side is the Kop End. Famous throughout the world and beyond, if the heart of Anfield is the boot room, this is the club's soul. The proudest supporters in the land, the all-seater Kop generates as much passion as the terracing did. Don't forget to bring your red-and-white scarf to the match; you'll need to raise it to join in the rendition of "You'll never walk alone". The players head toward the Kop post-match to celebrate victory and commiserate in defeat, with club's loyal supporters.
2- Which Tier to Choose?
Upper Tiers
Watching Liverpool from any part of the ground is a great experience. The upper tiers of the two long sides are typically filled with mature supporters and day trippers but you're expected to contribute to the atmosphere. Don't expect to stand up very often unless the goals are flying into the opponent's net, but don't expect to sit quietly either. You may be higher up in the stand but you will thrive off the energy the lower tiers generate.
A word of warning about the seats at the back of the Upper Tier of the newly-built Main Stand. The Hubble telescope might be the best thing to take with you for the game. It's a long way from the pitch so while you may see these as the lowest priced tickets in the secondary market, there's a good reason for it.
The upper tiers in both short sides offer a fantastic view of the pitch. Unobstructed, you get to see all the angles without needing to rise to your feet when the ball comes toward the goal you're sitting behind. These seats aren't too far from the pitch but you won't be able see which players didn't shave before the match.
Lower Tiers
If it's passion you want, then the lower tiers are the place for you. More of the 'regular' supporters sit in here and generate the atmosphere for the rest of the ground to feed off. In the Anfield Road End, you have the friction of the sparring between home fans and away fans to build an atmosphere.
The two long sides see more of the action close-up with Liverpool using every inch of the famous Anfield turf to stretch their opponents. In the front rows of the main stand, you'll be able to share banter with the players as they prepare to take throw-ins or free kicks while in the main stand you can share your wit with both benches. Just make sure you bring a sharp sense of humour along with the replica shirts!
The Kop doesn't need that. You walk into the stand are immediately surrounded by history. Don't worry if this is your first time at Anfield, where the turnstile clicks as you enter, you instinctively know the words to sing every time. Make no mistake, this is the place to be seen when Liverpool play. The camera pans around and your face could be seen by a global audience of millions.
Family Section Tickets
Liverpool has a family section, situated in blocks 222 – 224 of the Anfield Road stand (short side opposite the Kop) but unusually for Premier League clubs offers junior tickets in the rest of the ground.
If you buy a junior ticket, it must be used by a child under 16. For 17 – 21-year-olds, there are young adult tickets but they must be used by a person in this age range. You can be challenged so take ID with you.
Disabled Fans
The following sections are for disabled supporters and their carer:
Main Stand Lower: Blocks L1, L7, L8, L9, L10
Main Stand Middle: Blocks M1 and M9
Main Stand Upper: Block U5
Kop - Blocks 104, 105, 106
Anfield Road - Blocks 126, 127.
Anfield Road – Block 125 (away fans only)
There are spaces for ambulant and visually impaired spaces in the lower tiers of the Main Stand (long side) or the two short sides, Anfield Road and Kop stands.
3- How to Buy Liverpool Tickets Online?
Getting tickets on the primary market is possible but only if you're a club member or you've missed the public sale for non-members (which often is sold-out in a matter of minutes or hours tops).
Your best chances are in the secondary market. You have a variety of available categories. Pairs of tickets are also available (WoW guarantee them for all tiers), but for more than a pair or groups – contact us – we have it available in several tiers but not in all categories and not always. However, you should be able to find seats in the same block, reasonably close together. For the big matches, such as Everton and Manchester United, you are struggling but also for games such as Arsenal and Manchester City.
And you never know your luck; Liverpool supporters can be accommodating and willing to swap seats with you – it's a case of being lucky on the day.
The most popular matches are Saturday 3 pm kick-offs, but all games on Saturday's are popular. Sunday 4 pm – typically live on TV – can cause some problems with transport, so there is a brisk activity in the secondary market for these matches. It depends on the opposition.
Midweek matches see a lot of tickets available, but you need to be quick for the Champions League! These are popular matches no matter the opposition, and there's a buzz about the place which is unique to them.
Follow these steps to complete your purchase of Liverpool match tickets:
Select your Liverpool fixtures from our events table above or our match menu. You can buy Liverpool home tickets or for Liverpool away tickets.
On the Liverpool events page, locate the seating section you want and click 'Buy ticket'
On the checkout page please login with your user information or select checkout as a guest and fill in your personal information then press 'Next'.
In the review your order page you will be able to review LFC tickets that you have ordered and the total price you will be paying in the next stage if you have been given a coupon or discount code, enter this in the box and click "apply". The final order amount will be calculated and then click "Proceed to payment". There are no hidden fees or costs and the total price you see is what you will pay for Liverpool tickets.
After clicking "Proceed to payment" you will be redirected to our highly secure payment page where you should enter your payment details and process the payment.
After payment is successfully processed you will be redirected back to our site and you will receive a confirmation message. An email with your Reds tickets order details will be sent to the email address you have provided during your registration.
Directions to Anfield Stadium:
Address: Anfield Rd, Liverpool, United Kingdom, L4 0TH
Using public transportation:
Closest Metrolink station:

Etihad Campus
Holt Town (closed for one hour after final whistle)
Velopark Metrolink (closed for one hour after final whistle)

Closest national rail stations:

Liverpool Lime Street
Sandhills (Merseyrail)
Kirkdale (Merseyrail)

Bus routes

17, 26, 68, 168, 501, 917, Soccerbus
LFC Quick Facts
Nickname: The Reds, 'Pool
Formed: 1892
Ground: Anfield
Manager: Jurgen Klopp
Captain: Jordan Henderson
Liverpool FC is one of the most successful and well supported teams in English football history with a truly loyal and devoted fan base. There are an estimated 200 official supporters clubs in approximately 50 countries. The club was founded in 1892 joining the football league one year later and has played at Anfield since the very beginning. They have amassed an impressive tally of trophies, particularly during the Golden Years of the 1970's and '80's when first Bill Shankly then Bob Paisley led them to an impressive eleven football league titles as well as seven trophies in Europe.
Alas the LFC history has not all been covered in glory, they have also had to endure two major tragedies. During 1985 rioting Liverpool fans caused a wall to collapse, crush and kill 39 Juventus fans at Heysel Stadium which lead to English football clubs from being banned for five from competing in Europe. 96 Liverpool supporters were crushed and killed in the Hillsborough disaster just four years later in 1989. Liverpools neighbours Everton are their major rivals as well as nearby Manchester United.
Liverpool FC was born out of a dispute on the committee of Everton FC. Club president John Houlding owned Anfield at the time and Everton left to play at Goodison Park, leaving Houlding to form a new club: Liverpool FC.
It wasn't until the arrival of Bill Shankly on Merseyside that Liverpool's fortunes really turned He took the club out of the Second Division and laid the foundations for the success of the 1970s and 1980s.
Until recently, they were the most successful English club with 18 league titles, 7 FA Cups and 5 Champions Leagues among their trophy haul. Silverware has proven harder to come by in the Premier League era but with Jurgen Klopp at the helm, the Kop hopes to be signing their cherished "You'll never walk alone" to the champions before too long. 2016/17 was the first step in that direction. Klopp guided the Reds to the top four and a return to the Champions League. The great European nights are set to return and with the club's record signing, Mo Salah, now on board, the vibrant attacking football the club is known for, will be seen by a global audience and in front of a fervent Anfield.
Honours
First Division / Premier League (18):
Second Division / Championship (4):
FA Cup (5):
League Cup (8) English record:
Champions Cup / Champions League (5):
UEFA Cup / Europa League (2):
UEFA Super Cup (3):
Trebles (2):
Doubles (7):
Leading Goalscorer
Ian Rush 346 goals in 660 appearances
In two spells at Anfield, Ian Rush set himself apart as Liverpool's leading goalscorer. He first moved to Anfield in 1980 from Chester City and until 5th April 1986, whenever Rush scored, Liverpool didn't lose. His record ended at Wembley in a 1 – 2 defeat to Arsenal. He scored 217 goals in 319 appearances during his first spell before moving to Juventus for an unsuccessful season in Serie A.
Returning to Anfield, he scored a further 129 goals in 341 appearances before moving to Leeds United, Newcastle United, Sheffield United and Wrexham before finishing his career at Sydney Olympic.
He is Liverpool's top scorer in the FA Cup, League Cup, as well as scoring the most goals in a season for the club (47 in 1983 – 84).
Greatest Moment
25th May 2005, Ataturk Olympic Stadium, Istanbul. Liverpool arrived in Turkey for the Champions League final against AC Milan as huge underdogs.
Milan started quickly. Paolo Maldini scored in the first minute. Andrei Shevchenko had a goal ruled out for offside before a quick double from Hernan Crespo before half-time gave the Italian club what seemed to be an unassailable lead.
In the second half, six incredible minutes saw Liverpool draw level before the hour. Gerrard, Smicer and Xabi Alonso turned the match on its' head. Both sides had opportunities to win the game in normal time and thirty minutes extra-time but it came to a penalty shootout. With Liverpool ahead 3 – 2, Shevchenko stepped up to take his spot kick but Jerzy Dudek saved to hand Liverpool their first Champions League triumph.
Official Social Pages for Liverpool
Follow Liverpool on:
Main Stand Lower: Blocks L1, L7, L8, L9, L10
Main Stand Middle: Blocks M1 and M9
Main Stand Upper: Block U5
Kop - Blocks 104, 105, 106
Anfield Road - Blocks 126, 127.
Anfield Road – Block 125 (away fans only)

1900–01, 1905–06, 1921–22, 1922–23, 1946–47, 1963–64, 1965–66, 1972–73, 1975–76, 1976–77, 1978–79, 1979–80, 1981–82, 1982–83, 1983–84, 1985–86, 1987–88, 1989–90

1893–94, 1895–96, 1904–05, 1961–62

1965 v Leeds United, 2 – 1
1974 v Newcastle United, 3 – 0
1986 v Everton, 3 – 1
1989 v Everton, 3 – 2
1992 v Sunderland, 2 – 0
2001 v Arsenal, 2 – 1
2006 v West Ham United, 3 – 3 (3 – 1 on penalties)

1981 v West Ham United, 2 – 1
1982 v Tottenham Hotspur, 3 – 1
1983 v Manchester United, 2 – 1
1984 v Everton, 1 – 0
1995 v Bolton Wanderers, 2 – 1
2001 v Birmingham City, 1 – 1 (5 – 4 on penalties)
2003 v Manchester United, 2 – 0
2012 v Cardiff City, 2 – 2 (3 – 2 on penalties)

1977 v Borussia Monchengladbach, 3 – 1
1978 v FC Bruges, 1 – 0
1981 v Real Madrid, 1 – 0
1984 v AS Roma, 1 – 1 (4 – 2 on penalties)
2006 v AC Milan, 3 – 3 (3 – 2 on penalties)

1973 v Borussia Monchengladbach, 0 – 2, 3 – 0 (3 – 2 on aggregate)
1976 v FC Bruges, 1 – 1, 3 – 2 (4 – 3 on aggregate)
2001 v Deportivo Alaves, 5 – 4

1977 v SV Hamburg, 1 – 1, 6 – 0
2001 v Bayern Munich, 3 – 2
2005 v CSKA Moscow, 3 – 1

1984 League, League Cup and Champions Cup
2001 FA Cup, League Cup and UEFA Cup

1973 League and UEFA Cup
1976 League and UEFA Cup
1977 League and Champions Cup
1981 League Cup and Champions Cup
1982 League and League Cup
1983 League and League Cup
1986 League and FA Cup

Facebook – http://www.facebook.com/liverpoolfc
Twitter – http://www.twitter.com/lfc
Instagram – http://www.instagram.com/liverpoolfc
Snapchat - https://www.snapchat.com/add/lfc
Google+ – https://plus.google.com/+LiverpoolFC
YouTube – http://www.youtube.com/LiverpoolFC
Spotify – https://open.spotify.com/user/shootmatchday/playlist/78lxjrcD1yI1KnTcx4zY9d
Football News
Oct 12, 2017 Thu 20:15

 ...

Sep 14, 2017 Thu 20:39

Sep 8, 2017 Fri 13:29

Aug 24, 2017 Thu 22:05

Jul 2, 2017 Sun 10:52

English Premier League Season 2017/18...