Liverpool versus Manchester United is more than a football match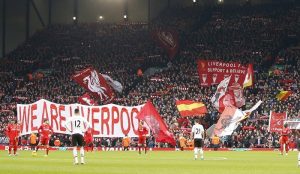 Liverpool versus Manchester United is more than a football match. It is a game of deep-rooted hate between two clubs and cities in the northwest of England. It is a derby that defines the English football calendar and a match that no other English football rivalry can compare to.
Liverpool defined English football in the 1970s and 1980s. During a 20-year span, Liverpool won 11 first division titles. They added three FA Cups and four League Cups to their tally. The club weren't done there, as Liverpool also tallied two Champions League trophies during the 1980s.
During their two decades of dominance, Manchester United fans had to sit quietly as their neighbours on Merseyside collected cup after cup. But in 1986, the Red Devils put the wheels in motion for change by hiring Alex Ferguson as manager. Although what followed makes most people forget, it took Ferguson some time to change the club's fortunes; and he nearly lost his job at the end of the decade. However, an FA Cup win in 1989-90 kept him on the bench and set the course for Manchester United to be the most successful team of the 1990s and noughties.
Ferguson did just what he claimed he would do when he took over the job at Old Trafford, he knocked Liverpool off their f**king perch. The Reds haven't returned to the heights pre-Premier League, and have still never won an English Premier League title. Meanwhile, Manchester United have won 13 Premier League titles, and lead everyone, including Liverpool, for the most English first division trophies. That is a stat that doesn't sit well with Liverpool supporters, but something that Manchester United's most avid fans love to talk about.
While the rival between the two teams was once cordial, it changed in the 1990s when Manchester United final got out of the Reds' shadow. Today, it is the most fiery of all derbies. While local fans want their teams to beat local rivals Everton and Manchester City, respectively, the match between Liverpool and Manchester United defines a season. It is a unique experience when sitting at Anfield or Old Trafford, to watch the two winningest teams in the English game do battle.
No match in English football can top the Liverpool-Manchester United. The two sides will play on October 14 at Anfield. Tickets are available from WoWTickets.football now!