Tottenham Bid Farewell To White Hart Lane
On Sunday, Tottenham Hotspur bid a fond farewell to White Hart Lane. The club moved to the ground in 1899, remaining there since. Archibald Leitch, the renowned architect whose stands graced many English football stadia, designed the redevelopment in the early 20th Century but with a capacity of just over 36,000, it is too small for the Premier League era.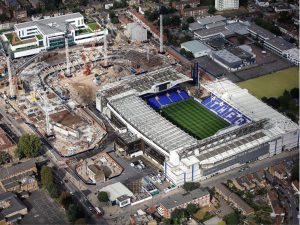 Especially as Spurs are hunting for glory, for bigger prizes. Next season sees them decamp to Wembley Stadium while their new ground is finished. Already under construction, it will take over the land surrounding the ground on Tottenham High Road.
Next season offers the opportunity for more tickets with Premier League matches at Wembley. The capacity will be 75,500, meaning a healthy secondary market for Spurs tickets.
The Premier League accommodated the occasion; the last-ever fixture to be played there is against Manchester United. Tickets were gold dust; unsurprisingly so, since the same problem surfaced when Arsenal moved from Highbury to the Emirates Stadium.
Spurs will remember the glory days. The club's two league titles were sealed with wins at White Hart Lane; the UEFA Cups – now Europa League – of 1972 and 1984 against Wolverhampton Wanderers and Anderlecht, were sealed in N17.
There is a pub quiz question in all of this. Which north London club won the league title the most often at White Hart Lane? Go into the corner with a dunce's cap on if you said Tottenham. It's Arsenal. Tottenham didn't become a London borough until 1964, by which time their league titles of 1951 and 1961 were beginning to fade from memories.
For Spurs fans, it is a ground where memories were made. Nowhere will quite compare to a place where they won the North London Derby 5 – 1 in 2008 and 5 – 0 in 1983 and 1911. From 1960 to 1964, they faced the Gunners six times at White Hart Lane and scored 21 goals. In some cases, it doesn't get better than that.
Better to forget the 0 – 5 in 1978, 4 – 5 in 2004 and the club's record heaviest home defeat in 1934 when Arsenal won 6 – 0 at the Lane.
Manchester United have also featured in some classic encounters at White Hart Lane. While the matches at Old Trafford tend to one-sided affairs, Spurs have the upper hand at their own ground.
Their biggest win against United came there in 1934, when they won 6 – 1. In the six meetings between the two sides from 1960 to 1965, they scored 20 goals. It really was Tottenham's 'Golden Age'.
Since then, United held the upper hand. Until last April's 3 – 0 win, Spurs hadn't beaten the Red Devils at home in fourteen Premier League meetings. During that time, the Tottenham faithful had seen their side throw away a 3 – 0 half-time lead to lose 3 – 5, as well as 2007's 0 – 4 drubbing.
Sunday's match is about remembering the good times. United have the Europa League final to think about so will rotate their side. Spurs want to sign off on a high, with a convincing win, avoiding a flat atmosphere afterwards.
The occasion demands fireworks and the crowd may well get them, on and off the pitch.