Champions League last-16 set for dramatic finish | Champions League last-16
The Champions League last-16 is set for a dramatic finish. The three of the eight ties are set barring an unbelievable turnaround, but five of the series are on a knife's edge.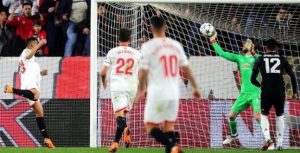 Bayern Munich, Liverpool and Manchester City already have both feet in the quarterfinals. The teams must prevent a dramatic collapse from occurring in their respective second legs to stop them from going through.
Meanwhile, the Champions League's other ties will be can't miss viewing in the coming weeks. Tuesday March 6th will see the kickoff of the second leg fixtures, and the biggest of the round will be the first to commence.
Real Madrid shocked the favoured Paris Saint-Germain in the first leg. It was a typical performance from both sides. Madrid never gave up and found a second half winner; while PSG stumbled despite all their spending. Madrid's win came as part of the team's renaissance following Christmas. Cristiano Ronaldo is back to scoring and the team is unbeaten in its last six matches. PSG have failed the last seven years at the Champions League last-16 stage. The team's money hasn't equalled Champions League success, and while Neymar might make PSG more attractive, he may not get them to the promise land.
Tottenham and Juventus go into their second leg knotted at two goals apiece. However, Tottenham's two scores in the first leg have them on top of the tie. The away goals rule could send Spurs through, and a goal at Wembley would mean Juventus must score twice to get to the last-8.
Chelsea head to Camp Nou as the two sides are level at 1-1. Chelsea were on course to win the first leg at Stamford Bridge. However, Lionel Messi's second half strike brought Barcelona back into the tie. It was typical Messi, and once again without him, Barcelona would have been beaten.
Manchester United host Sevilla after a scoreless draw in the first leg. Despite the English media's persistence that Sevilla are a poor side and Manchester United are superior, the Spanish team outplayed the Red Devils. A goal from Sevilla could mean the Spanish club are through to the next round thanks to the away goals rule. Manchester United truly missed out when they failed to score in the first leg. A score draw sends Sevilla into the next round at Jose Mourinho's expense.
Do you want to be at the Champions League last-16 second leg matches? It's easy with www.WoWTickets.Football. Don't miss the best football action in the world.