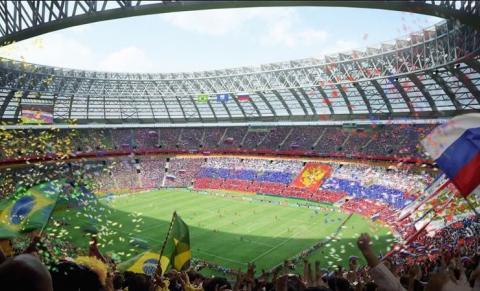 If you're planning to go to Russia, remember WowTickets will have seats for all matches, allowing you to follow your national team throughout the tournament. The path to Russia 2018 became clearer following the recent round of international matches. Ambitions of all four home nations making next year's finals hang by a thread with Wales and Scotland in danger of missing out entirely.
World Cup 2018 tickets are available for all popular matches. Book your World Cup 2018 Tickets securely with us and enjoy the electrifying atmosphere of the match. Buy World Cup 2018 home and away tickets online. Here at wowtickets.football we do our best to provide our customers with the best service.
World Cup 2018 Fixtures
We apologise, but currently there are no tickets available. To receive a ticket alert when events will become available for sale, please sign up to receive a ticket alert.
RUSSIA 2018: EUROPEAN PICTURE BECOMES CLEARER
For the Scots, their next match will be decisive. And it couldn't be any less demanding: England at Hampden Park on 10th June 2017. Gordon Strachan bemoaned the state of Scottish football recently and knows defeat, coupled with Slovakia taking the points in Lithuania, will leave fans with another summer watching international football on television.
And his own job on the line. Once the kings of the British scene, Scotland are currently the worst performing of the four Home nations but with the most fiercely loyal fans.
England meanwhile, have picked up the pace after a sluggish start. Four wins and a draw, without conceding a goal, isn't setting the national pulses racing. However, after years of dismal failure, it may not be bad for a low-key approach to the next World Cup. After Scotland, they travel to Malta in September with the game against Slovakia on 3rd September in what is likely to be a group decider.
As ever, WowTickets is able to obtain seats for all the games so you don't have to miss out.
Surprise package Northern Ireland sit second in their group, two points ahead of the Czech Republic and five behind Germany. They travel to Azerbaijan at the end of this season with the hope being that they will repeat last November's 4 – 0 home win. Seven points out of the next nine available oughts to see them home and hosed for their second consecutive tournament summer.
Group D sees the Republic of Ireland and Wales slugging it out for the second spot behind group leaders Serbia. The Welsh can do themselves the world of good with a win over Serbia at the National Stadium in June while the Irish, currently second, ought to beat the Austrians in Dublin.
But it could be worse, the Scots could be Dutch. Danny Blind received his P45 from the KNVB after the Netherlands 0 – 2 defeat in Sofia left them struggling to qualify. The wonderfully named Fred Grim replaced him.
Their next game is against Luxembourg at home and their form is so bad that nobody expects that to be a cast-iron home win any more. If they lose that, the papers will make Grim reading for Fred.
The most fascinating battle sees Spain and Italy duking it out with two nations meeting in September likely to decide the fate of the group. A bumper crowd is expected at the Bernabeu, with demand high for tickets, creating a healthy secondary market. As a market leader, WowTickets unique money-back guarantee means that you can buy tickets, secure in the knowledge that you are protected every step of the way.
Of the other big nations, France and Germany are in cruise control to reach the World Cup finals. Russia will welcome Germany after the next round of matches with reigning world champions set to qualify in the next couple of games. The final groups see Switzerland in a strong position to reach the finals with Poland, Belgium, and Croatia set to complete the European group winners.