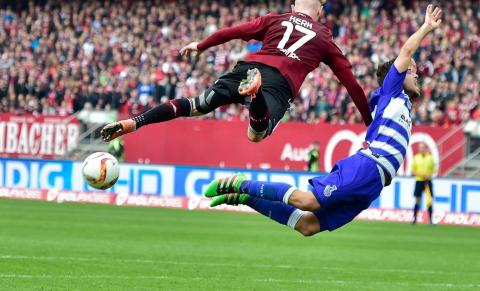 Rising out of a wooded area, the Max-Morlock-Stadion is a footballing throwback. The floodlights soar skywards before stooping in over the roofs of the stands. It's a venerable old stadium, built in 1928 but don't let that fool you. This is a ground and club which is proud of its' heritage and despite living in the present, won't let go of the past. The brutalist stands host a passionate support for 'Der Club' whose glory days came in pre-war Germany. It doesn't stop the hope; a record eight relegations from the Bundesliga makes for gallows humour among the fans, but every time they bounce back, supporting the players in their efforts. The club and sponsors recognise the importance fans play every week of every year. It's why the ground is named after a famous past player and not the sponsors who own the stadium naming rights. It's a club where people come first, and loyalty is above all else. Once you've experienced those feelings, your bond with Der Club will become unbreakable! Capacity crowds are the norm at the Max-Morlock-Stadion, making these tough tickets to get hold of but at WOW Tickets, we can satisfy your needs.We offer 1 FC Nurnberg tickets to all home matches at a reasonable prices.
1 FC Nurnberg Fixtures
We apologise, but currently there are no tickets available. To receive a ticket alert when events will become available for sale, please sign up to receive a ticket alert.