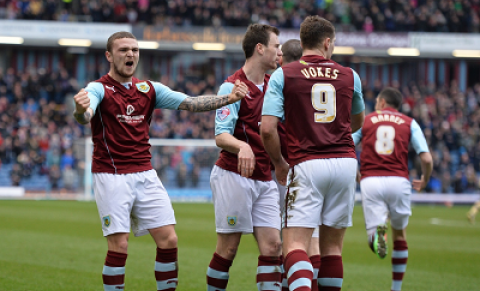 Not that Burnley are an ordinary club. The heir to the English throne, Prince Charles is a Burnley fan, as was Libyan dictator Muammar Gaddafi – who wanted to invest in the club in the 1990s – and former British prime minister, Edward Heath. The great and the good wore the claret and blue with pride; you can join them this season as Turf Moor prepares itself for another season in football's greatest carnival.
Tickets for Burnley FC available. Securely book your Burnley Tickets with wowtickets.football for 2017-2018 season and with 100% confidence thanks to our money back guarantee. Seats vary from cheaper single tickets, to premium and VIP seats (side by side). Hotel delivery is available in the city of the event.
Burnley FC Fixtures
We apologise, but currently there are no tickets available. To receive a ticket alert when events will become available for sale, please sign up to receive a ticket alert.
Turf Moor is the third-oldest stadium in the Premier League, and there's a feeling that the good times are around the corner once more. Sean Dyche, the lovable Gruffalo, steered the current squad to Premier League safety and has his eyes on mid-table or higher in coming seasons.
Visiting teams didn't get much change out of Burnley when they came to Lancashire; the Clarets were formidable thanks to the backing of their partisan crowd. The veins of home support run claret and blue; backing a club always thought of as the underdog by the rest of the football world.
History seeps through the stands of the club's only ground. Turf Moor saw the first hat-trick in English football, scored by William Tait on 15th September 1888. From then through to 1959, the club bounced around the English leagues but never lost its heart or soul. That core makes Burnley special in the Premier League; a never-say-die attitude from the stands and on the pitch; all hearts are worn firmly on their sleeves.
And for a while Turf Moor dared to dream. League champions in 1959, they almost won the double in 1961 – 62; Tottenham beat Burnley in to second place in the league and 3 – 1 in the FA Cup final. Those were the glory days; expectations are lower now but making a stand in the Premier League, staying there and building on that. Leicester City lived the dream; why not Burnley?
Buying Burnley match tickets
Follow these steps to complete your purchase of Burnley tickets:
Select your Burnley fixtures from our events table above or our match menu. You can buy the Clarets home tickets or Burnley away tickets.
On the Burnley events page, locate the seating section you want and click 'Buy ticket'
On the checkout page, please login with your user information or select checkout as a guest and fill in your personal information then press 'Next'.
In the 'review your order' page you will be able to review Burnley tickets that you have ordered and the total price you will be paying in the next stage if you have been given a coupon or discount code, enter this in the box and click "apply". The final Burnley ticket prices will be calculated and then click "Proceed to payment". There are no hidden fees or costs and the total price you see is what you will pay for Burnley tickets.
After clicking "Proceed to payment" you will be redirected to our highly secure payment page where you should enter your payment details and process the payment.
After payment is successfully processed you will be redirected back to our site and you will receive a confirmation message. An email with your Burnley tickets order details will be sent to the email address you have provided during your registration.
Official Social Pages for Burnley
Follow Burnley on:
HOW TO GET TO THE TURF MOOR
Closest national rail stations:

Burnley Manchester Road (nearest)
Burnley Central
Honours
Football League Division One (now Premier League) (2)
Football League Division Two (now Championship) (3)
1897 – 98, 1972 – 73, 2015 – 16
Football League Division Three (now League One) (1)
Football League Division Two (now League Two) (1)
FA Cup (1):
1913 – 14 vs. Liverpool, 1 – 0
Leading Goalscorer
George Beel: 187 Goals
Widely regarded as the club's best centre forward, George Beel played for Burnley between 1922 and 1932, making 337 appearances in league and FA Cup.
Beel set the record for the club's most goals in a season, scoring 35 in 1927 – 28, all of which came in the league. He was top scorer for the club in six of his ten seasons at the club, and second in another two. His most prolific period came between 1926 and 1929 when he netted 94 goals in 123 appearances.
Greatest Moment
2nd May 1960, Maine Road. Burnley's young side lays a claim to being the best in the country for several years. Two years on from this May Monday in Manchester, the Clarets would finish runners-up in the league and lose the FA Cup final to Spurs. Before then they featured in the Champions Cup and it stemmed from the title they won in 1960.
Their destiny was in their own hands. Wolves, in second place, played their final game of the season and won 5 – 1 at Stamford Bridge – how times change. Fulham did them a favour by drawing with Burnley on that last Saturday of the season but the Clarets had a game remaining; away at Manchester City.
Win and they were champions. Brian Pilkington's opener was cancelled by City; not even a quarter of an hour had passed. It was Trevor Meredith on thirty minutes who provided the goal which settled matters. 2 – 1 and Burnley were champions!